Superstar Speakers | Why Speaking For Free Is More Lucrative Than Getting Paid To Speak
In this Superstar Speakers blog, I'm going to share with you why you'll earn more speaking for free than getting paid to speak. As you're building your speaker profile, you can get lured in by paid speaking opportunities. However, being a speaker who runs a live event business is another story.
There are different ways that you can make a profit apart from paid speaking events. Today, I'm going to let you in on these five different strategies.
Speaker Training: Strategies For A Profitable Business
Learn How to Sell from the Stage
A person who knows how to sell from the stage will never go hungry. This is very important, because there are a lot of gifted speakers. I think anybody can stand up and deliver great content after they've practiced over and over.
However, you need an entirely different skill set to sell from the stage. In this business, you need to develop two skills — public speaking and selling. When you can sell from the stage, you'll never worry about going out and making money. You'll always be able to chart your own path.
That's a great position to be in. That means, before anything else, you should focus first on learning how to be a great speaker and understanding how to sell from the stage.
Speak for Free and Sell

In my perspective, it's always more lucrative to speak for free in other people's stages when you're in the live event business. If you speak for free on a stage but you can sell, then you can still make a profit.
Speaking for free gives you the opportunity to sell on that stage, versus getting paid for the gig. As I've mentioned earlier, if you're still new to this business, you can easily be attracted to paid speaking opportunities. You might think, "Getting paid $5,000 to do a keynote speech is really lucrative."
Let me break this down to you. If someone's going to pay you $25,000 or $50,000 to speak, it's probably going to be for a big event. The kind of event that has about 500 attendees. But what if, instead of the organizer paying you, you were able to offer a $2,000 product to the attendees? This product can even be the ticket to your live event.
Think about this. If you have 500 people in the room, and only 10 percent, or 50 of them, bought your $2,000 product, you'll make $100,000 right there.
A lot of times it's customary to split 50 percent of your profit with the event organizer. Even if you took away half of your $100,000 profit, you'll still have $50,000 with you. My question for you is, would you rather earn $50,000 from selling on stage or from just speaking?
This interesting point leads us to the third strategy.
Read Also: Three Massive Mistakes To Avoid When Making An Offer From the Stage
Take One Step Further: Upsell
If that $2,000 product you sold on somebody else's stage leads people to your live event, you'll open another revenue source. That means, first, in your unpaid speaking engagement, you are actually selling your live event to your audience. Then, once they are in your live event, you upsell them into your coaching programs.
You now have two revenue sources. One is the ticket sale for your live event, which happens on someone else's stage. The other one is the upsell to your coaching programs or public speaking training activities, which happens in your live event.
Doesn't it make more sense now to speak for free when you're a live event master?
Use Your Asset

A live event organizer also has this perk: You can swap your stage spot for another one. Your stage is your asset. It creates leverage for you to be booked as a speaker. This then becomes another revenue stream for you.
You can actually walk up to other live event masters and say, "Hey, I know you organize seminars. I'd like to speak on your stage. In return, would you like to get booked on mine?"
If you don't have the stage as an asset, you only have your speaking skills to rely on to get engagements. However, if you do have a live event business, you have another selling point to rely on. This Superstar Speaker Training wisdom is especially true when you want to speak at other people's seminars.
Now you understand that when I say "speaking for free," you're not doing so necessarily. You get paid based on the profit you make by selling on stage and on the upsells you make in your seminar room. Look at this perspective to understand why building your own live event business makes sense as a speaker. It will gain you more revenue sources compared to paid speaking engagements only.
What If Someone is Paying You to Speak?
There are times when an organizer will offer you a speaking engagement where you can't sell, but they'll pay you to speak. Regardless of what we have discussed earlier, it is still great to get paid for public speaking.
However, if you find yourself in this situation, always have an incentive that you can give away for free. You can offer that incentive to your audience by asking for their email address in return. That way, you're capturing all the email addresses of the people in the room for follow-up campaigns. Then you can create a profit source from there.
Aside from an incentive, you can also offer free strategy sessions. Open this up to your audience by saying, "I enjoyed being here with you. If you would like a free strategy session with me or my team of coaches, just fill out this form. We'll get on the phone with you to have an in-depth coaching session. We'll see how we can serve you."
Even when you get paid to speak on a stage, you'll still find other ways to make a profit from your audience.
I hope this speaker training help you and encouraged you to grow in the live event business. When you know how to spot opportunities and grab them, you'll have a lucrative career in this industry. Use the strategies I have shared with you for your next speaking engagements. Moreover, if you see other good opportunities to make a profit, don't hesitate to go for them.
Was this speaker training helpful? What challenges do you still encounter? Share them with me in the comments section below, and we'll see how we can help.
Up Next: How To Create A Presentation To Inspire Clients To Say Yes | Follow These 8 Steps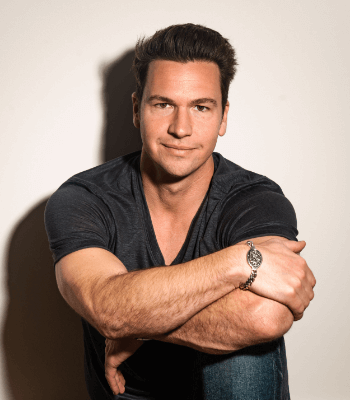 Ted McGrath
Transformation Coach, Theater Performer, Speaker, and Best Selling Author
Ted is a theater performer, speaker, and best selling author. He has created 5 household brands and made millions teaching Coaches, Speakers, and service based Business Owners how to turn their life story and life experience into a lucrative business that impacts millions and makes millions.