How to Create a Social Media Marketing Pitch Perfect for the Holiday Season
If you haven't planned your social media marketing strategies yet, now is the perfect time to do it. It's the holiday season, and a lot of people will have the opportunity to check their Facebook, Twitter, or YouTube often. To capitalize on that, today, I am going to teach you how to create a precise, client-driven marketing pitch.
Social Media Marketing Campaign Tips to Stand Out
These days, almost everybody's doing social media marketing. My business does it as well, and it remains an effective technique to find and engage my clients. The holidays, however, bring a different kind of challenge to such strategies.
Firstly, people are paying attention to you more. Whether it's because they have enough time to browse their feeds, or their using social media more to find friends and family to reconnect, this is your chance. However, the second caveat to the holiday season is that you're also in very tough competition. You need to make sure that when you market your program on social media, it stands out.
To do that, you need to have a solid social media marketing pitch. Here are five tips to guide you through the process:
1. Define What You Do
I couldn't think of a nobler career than coaching and teaching others. – Ted McGrath pic.twitter.com/uwWINc3gOr

— Ted McGrath (@ted_mcgrath) October 23, 2017

Are you a coach or a speaker? What is your purpose or message, and how do you translate it to helping others? What are your greatest strengths?
One of the biggest problems with this is people don't really know who they are and what they do. Some people come up to me and say, "Ted, I am a coach." Okay, you are a coach, but what kind of coach are you? What is the value of what you do?
I understand this is difficult, so here's my suggestion: Make a statement. One of my statements I use to promote Message to Millions is this: "I help people find their life story and their message so that they can attract clients and then share that message with millions of people."
What do you notice from that line? It's specific, right? You don't just know my role, you also know what I can offer to you.
2. Find the Problem, Then Create the Solution
Clients come to you because they have a vision. They have dreams they want to fulfill or a need to address. They enroll in your program because they believe you can help them achieve their goals and purpose.
You have to bridge the gap between their vision and what you can do by first identifying the problem and then providing the solution.
However, you can give dozens of tips on how to do things, and they don't always work. In fact, the clients may not even respond to you. It's because they don't feel the connection with you. Luckily, social media marketing can fix this. After all, this type of marketing is all about connection and engagement.
How do you get rid of the bridge? Create your life story. With the power of the life story, you can focus on your Pit, or the darkest part of your journey that leads to your transformation, and use it to help people.
You can highlight this Pit when you're doing social media marketing and let your clients know it's possible to make their vision into a reality. You're a living proof.
Most of all, it makes your story and your program unique. No other person has the same experience as you.
3. Build Social Proof
Speaking my truth and sharing my story gave me the ultimate freedom. pic.twitter.com/OysSEvoBI4

— Ted McGrath (@ted_mcgrath) October 16, 2017

I remember when I shared about my recent overseas trips with my friends. We met at lunchtime, and I was trying to describe my experiences. I was so animated I didn't realize immediately they were looking at me intently, sort of asking, "Are you for real?" Then one of them said, "Ted, your stories are wonderful, but show us the photos, and we'll believe you."
With social media, everything is laid out. You know what your friends are doing, where your family members are, the best food places to go to, etc. It's also a great tool to build your credibility by letting others speak about your brand.
In social media marketing, it's called social proof. When people see for themselves the success of others, they start to trust you. They now know you're real and that your program is working.
Getting social proof, however, is not easy if you're new in the industry or you've just created a program. To counter this, a smart strategy is to offer a consultation session as a freebie or an early holiday gift to your potential clients. These usually last for 30 minutes to an hour, and you don't have to do it every single time. However, you can begin with it so you can gather testimonials or reviews from those who experienced your coaching. You can also follow my low-tier marketing funnel strategy.
4. Focus on the Value
A lot of people struggle to make a social media marketing pitch because they are afraid to say how much their program is really worth. Consequently, to make sure they don't feel guilty, they charge very low. Don't do this.
Instead, always stand in your value. If your program is worth $5,000 or even $20,000, so be it. Your dream clients will be willing to pay for it because they understand what you can give them in return.
5. Provide a High-End Offer

In your social media marketing pitch, include a high-end offer. I understand it sounds frightening or intimidating. "Ted, it's too high. Nobody wants to spend that."
However, I've learned people actually want that. In fact, they want to have the best. By giving your high-end offer, you are already telling them they can get the best from you.
The holidays are fast approaching, which means you should already feel the push to come up with the best social media marketing. These five steps should give you one fast, allowing you the time to execute it and enjoy the results.
How do you make your social media marketing pitch during the holidays? Share your thoughts in the comments below.
Up Next: How To Get Clients In 30 Days Or Less With My #1 Strategy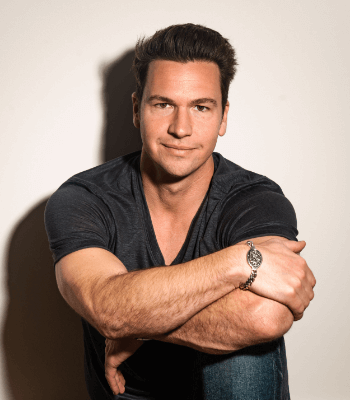 Ted McGrath
Transformation Coach, Theater Performer, Speaker, and Best Selling Author
Ted is a theater performer, speaker, and best selling author. He has created 5 household brands and made millions teaching Coaches, Speakers, and service based Business Owners how to turn their life story and life experience into a lucrative business that impacts millions and makes millions.