How to Run Your First Live Event and Make It Profitable
Do you want to learn the secret of how to run your first live event and earn a profit at the same time? In this step-by-step guide, I'm going to share with you exactly what you need to do to run your very first successful and profitable live event within the next 120 days!
How to Run Your First Live Event and Earn Money
What You'll Discover:
Are you ready to learn how to run your first live event and then make it a successful live event business? Do you want to know how to make six or seven figures with high-end offers, high-quality clients, and high impact from the stage? Check out what you'll discover in my guide:
How to fill your event with high-quality people (no email list needed!)
My 8-step system for creating a captivating presentation
How to create a compelling offer
My conversation script for telling people about and inviting them to your event
How to Take Action: 
The first thing you must know about how to run your first live event and make it profitable is to act now! The key is to take fast action…most people are waiting for an opportunity to arise or someone to hand it to them, but you have to make it happen. Start today!
 Want my free guide to hosting your own profitable live events? Get it here. 
This is your action plan:
Set a date
Pick your topic
Choose your profitable live event model
Spread the word
Build your presentation and content
Create your offer
1. Set a date
If you want to know how to run your first live event, then you've got to get in the game right now. Pick a date for your live event within the next 120 days. When you pick a date, it becomes real.
2. Pick your topic
Now you've got a date, you need to know what your live event or workshop topic will be. What are you going to speak about? And how will you know if it's the right thing?
Start with what you know. There's a speech inside you that inspires people. You have a message that matters. Your best topic will come from your personal journey and experiences.
Ask yourself: What have you personally experienced and learned that could add value to other people? A great place to start with this can be to take a look at your life and identify your 'Pit' moment – your lowest point. Do you have a story of transformation to share with the world that could, in turn, create transformation for others?
Your audience wants to be empowered by you. They want to be educated by you, and they want you to help them live a better life.
They need you to stand up as a leader, to show up and serve them. You might be 6 months away from mastering your topic, but you won't master it by staying at home. You'll master it by living, by experiencing and solving your own problems, and teaching other people.
3. Choose your profitable live event model
In learning how to run your first live event and profit from it, knowing how to make money is key. If you don't make money, you won't be able to invest in growing your business. In turn, you won't be able to serve anyone with your message and knowledge.
Here are 3 proven models for profitable live events:
a. Small workshop
This is a really good model for your first live event. Aim for 10-12 high-quality people in your first event. The format could be a 2-day workshop with an offer at the end. Typically 20% of your audience will sign up to your offer (if they're high-quality people and if you use my presentation format below).
If 2 clients sign up and pay you $1000 a month each for a 12-month program, you'd make $24,000 simply from getting 10 people in your room and sharing your gift.
b. Retreat
Create an experience of transformation within a community of people in a destination location. (This can be anywhere — down the road from you or in another country).
If you have 12-14 people attending at $1,000 a head, the income from attendees alone will cover your expenses with money left over. If you make an offer at the end of your retreat for a $25,000 12-month high-end coaching package and 20% of your group signs up, you could make $75,000 in a weekend.
c. Seminar
Seminars are for larger groups, 100+ people in a room. Let's say you charge $497 for your seminar, and you get 100 people in the room. You make $50,000 before you show up (you've covered your expenses with money left over). If just 10% of the people join your higher end coaching program and pay you $10k each, you'd make $100k from that weekend.
Want my free guide to hosting your own profitable live events? Get it here. 
4. Spread the word
Now you know how to run your first live event and make money, you need to get people in the room. Begin by listing out your Top 20. This is a list of the top 20 people you know.
Next, you're going to pick up the phone and call people! I split my enrollment calls into two parts. On the first call, you're just looking to connect, build rapport, establish a relationship, and learn about what's going on for that person right now. On the second call, you can invite them to enroll in your event.
Here's how your first call might go:
"Hey, it's [your name]. We haven't spoken in a while, and I wanted to catch up with you and see what's happening."
Have a natural conversation about what's going on with them, and when they ask you, let them know:
"You know, I'm really glad you asked, because I have something really exciting that's I'm working on right now."
"Well, what is it?"
"Well, you know, I've always had this desire to share my gift and share my experiences with other people. Now I know what my gift is and what I've learned, I want to teach people how they can break through in their life and live their full potential. I think every person deserves to have that. So I'm actually gonna be holding a live event that I'm really excited about."
Here, you pause and allow the person to ask more about your event. Remember, this call is not about inviting them to your event – you are finding out about them and what they want to you can enroll them in the vision you are creating.
"That's really awesome, I'd love to learn more about it."
"Great – well, I'm creating the content now and the date is [x]. I'd love to get back to you in the next couple of weeks or so when I have all the details and share a little bit more with you. How's that sound?"
"Yeah, of course. It sounds great."
"Awesome, so I'll call you back in a couple of weeks, and I'll send you out an email with a little more detail on the agenda and stuff. But I really want to find out more about what's going on with you, tell me, what's new for you in the last 3, 4 months or so?"
Use this conversation to get as much information as you can. The more you learn about their vision and their challenges, the more you learn about how you can serve them through your live event and your content.
Always set a timeline for your goals, so you can continuously strive to achieve it! Here's something to inspire you to get going.
5. Build your presentation and content
Your presentation needs to inspire your audience to take action on their own vision. Here's my 8-step system for creating presentations that engage and inspire.
Step 1: Create A Compelling Headline
Capture attention from the beginning. Tell your audience what you're going to teach them and the outcomes they can experience: I'm here to help you do x, so you can do/have/become y. 
Step 2: Tell Your Brand Story
What made you want to teach this topic? What's your Big Idea? Tell people why they're in your room.
Step 3: Highlight the Problem
Describe the trap most people find themselves in followed by how what you teach can enable your audience to experience their own transformations.
Step 4: Present the Solution
What's the big opportunity people have if they take action on your content? Tell them who they will become and the results they will see in their lives.
Step 5: Tell Your Personal Story
The person with a thousand words is never as powerful as the person who tells their story. – Ted McGrath pic.twitter.com/zG8k6aRK5o

— Ted McGrath (@ted_mcgrath) May 4, 2017
This is where you get vulnerable and authentic. Don't hold back – share your journey and experiences, from your lowest, darkest moment to where you are today.
Step 6: Case Studies
Your clients want to know that what you're talking about can happen to them, despite their own doubts and fears. Sprinkle stories of your clients' success stories throughout your presentation to inspire your audience (and if you don't have any clients yet, go and help some people in exchange for testimonials).
Step 7: Give Great Content
Use your very best content to empower and inspire your audience. Let them know what it's like to work with you — if they like it, they'll want more from you.
Step 8: Make Your Offer
Let your audience know what opportunity they have to work with you and call them to action multiple times. Speak to their doubts and fears, and inspire them to take action on their own bigger futures.
6. Create your offer
To create an offer your audiences wants to say yes to, you need to find out what their vision for their lives is during your enrollment conversations.
People enroll in programs that enable them to step into the bigger future they want for themselves. If you don't know what that bigger future is, or the challenges they face in getting there, you can't offer them what they want.
The value of working with you is in who you help your clients to become. Your audience needs to know that you understand their vision and that you can help them step into it.
Your program is the vehicle for their transformation. What outcomes will they experience as a result of working with you? How will their lives change? And what is that worth to them?
A great way to make a high-end offer is to make a simple offer. You can create a group that gets together three times a year. The community you create, full of high-quality people committed to investing in themselves and their vision, will be half the value.
Make your call to action as genuine as possible! Commit yourself to avoiding these mistakes: https://t.co/sMBlNoD91r

— Ted McGrath (@ted_mcgrath) July 4, 2017
Are you ready to take action? Now you have a roadmap on how to run your first live event and make it a financial success, you need to begin taking action today. I recommend you download my free Ultimate Seminar Sales Map to help you as you go through the process of planning your live event — it's the exact system I use, and I teach my clients to use. It's a great next step for you to take.
Do you know more tips on how to run your first live event and make it profitable? Feel free to share your experiences in the comments section below!
Up Next: 3 Common Mistakes To Avoid When Making An Offer From The Stage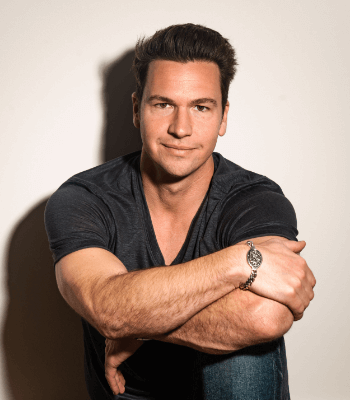 Ted McGrath
Transformation Coach, Theater Performer, Speaker, and Best Selling Author
Ted is a theater performer, speaker, and best selling author. He has created 5 household brands and made millions teaching Coaches, Speakers, and service based Business Owners how to turn their life story and life experience into a lucrative business that impacts millions and makes millions.