Public Speaking 101 | My Experiences As A Public Speaker
Public speaking is a useful skill to have, and I am fortunate enough to have the chance to use it for good! I usually get asked for tips on how to become a great speaker. I didn't become one overnight. In fact, my first gig on stage as a motivational speaker didn't go so well. However, with various experiences, I was able to share my message of positivity to people through public speaking. Let me share these tips and experiences, so you may also become a great speaker!
Public Speaking Tips to Become a Great Speaker
1. Get Inspiration
I believe every person has the power to change the world, and there are many ways to do that. You don't need to be born rich to make a greater impact.
What could I find that was going to be more meaningful and more fulfilling to me so I could start to change the world? I knew helping people was the answer, but I didn't know a way to do that.
I started to get some experience in my current career, in the insurance business, speaking in front of groups. While I knew being a speaker and teaching people felt good, I didn't know it could be a real business.
2. Find Your Influence
Do you want to #inspire people and help them reach their #potential? https://t.co/kdoXte6fJx

— Ted McGrath (@ted_mcgrath) September 7, 2017

A lot of people have asked what made me decide to become a speaker and coach. Some ask who influenced me or who I look up to in this business.
I thought about it, and I realized I actually didn't get my own inspiration from specific people. Instead, I believe what drove me to become a coach and motivational speaker was a gut feeling. I just knew I wanted to be one.
3. How To Be A Great Speaker
Communication is more than someone talking and someone else listening. It's about you making a connection with your audience. Your words should empower them to create transformation within their lives. Public speaking is about guiding transformation within people who are not ready to stand up for themselves yet. Still, you may be asking, "How do I become a great speaker and make an impact?" I have starting tips here.
4. Remember, You Don't Have to Be Amazing the First Time

If you want to become a motivational speaker, get yourself out there and speak.
When I started out as a speaker, I gave my first-ever talk at a financial seminar. My first speech was in front of an audience who were invited through direct mail. I was 22 years old at that time, but I looked like a 12-year-old.
My advice is this: the first thing you need to do is to face the audience and just be there. Do that with these inspiring pieces of advice. 
5. Learn How to Sell from the Stage
When it comes to knowing the techniques of how to sell, there are two things you need to understand: how to design the ultimate offer and how to deliver it to your audience so they're inspired to take action and enroll with you. To succeed, I have 7 steps you need to implement to make offers that inspire your ideal clients to say yes to you.
6. Make an Effective Call to Action from the Stage
https://www.instagram.com/p/BXT88Yoj07f/
How do you make an impactful call to action – one that converts to sales? Then, how do you get people to say yes to your offer when you make it from the stage?
One of the most important parts of getting a high percentage of people to say yes to your offer from the stage is by doing these three calls to action.
7. Build a Motivational Speaking Brand
Establishing your own brand, particularly a motivational speaking brand, is never an easy endeavor. It is especially challenging to build a motivational speaking brand because the people behind them are compelled to be role models who walk their talk. From my experience, I've had to go through my personal growth process before I became truly confident in this industry. I'd like to share with you the story of my journey toward building my brand here.
8. Speaking for Free Is More Lucrative Than Getting Paid to Speak
As you're building your speaker profile, you can get lured in by paid speaking opportunities. However, being a speaker who runs a live event business is another story. There are different ways you can make a profit apart from paid speaking events. Today, I'm going to let you in on five different strategies here.
9. Find Your Message and Make an Impact in the World
When it comes to learning how to find your message, remember this: You have a life story to tell, life lessons to teach, and a message to share with the world that can change lives. Your life story is unique, your life lessons are unique, and your message is unique.
Still, how do you go about creating your message from your life story and learning how to speak with confidence and clarity? Find out here.
10. Run Your First Live Event and Make It Profitable
How SMALL live events can generate BIG profits: https://t.co/a83tFnTg8r

— Ted McGrath (@ted_mcgrath) September 21, 2017

Do you want to learn the secret of how to run your first live event and earn a profit at the same time? In this step-by-step guide, I'm going to share with you exactly what you need to do to run your very first successful and profitable live event in just 120 days!
11. Make Your Message Stand Out
Are you wondering how to make your message stand out when you speak publicly? When I started out, I also wondered the same thing, especially when there's the same message that others want to share out there too. What I realized is every story is unique. With that said, every way of storytelling is unique too. If you want to learn how I do it, read my message to you here!
12. How to Get Booked as a Speaker on Other People's Stages
Remember: The key is to get in the game, start doing it, and make it real! Learn more: https://t.co/6RN2Wts0WT. https://t.co/j5DW48CMGA

— Ted McGrath (@ted_mcgrath) September 18, 2017

Learning how to get booked can happen as quickly as within the next 30 days. In fact, you can achieve this while speaking on other people's stages. The key is to get in the game, start doing it, and make it real.
13. Make It Happen
Success is something a lot of people aspire to. If you look around, it may seem easy to define what success is, but then really looking at these observations, you may find yourself asking, "Can anyone succeed?" Yes, you can make it happen.
Check out this animated rundown on how you can become a great public speaker:

Before you start improving your public speaking skills, remember to think about why you want to do this. I have always known I wanted to do this, but that didn't mean I was a great speaker right off the bat. Learn from these tips, start sharing your message to millions, and take that first step into making an impact on other people's lives!
Share your public speaking experience with me in the comments section below!
Up Next: 5 Authentic Persuasion Techniques To Enroll More Clients In Your Coaching Programs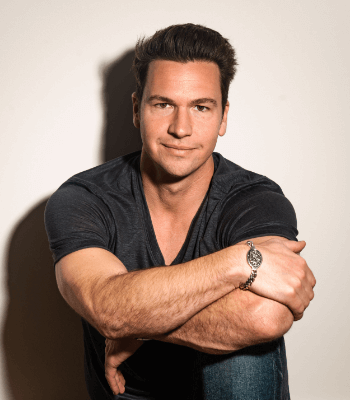 Ted McGrath
Transformation Coach, Theater Performer, Speaker, and Best Selling Author
Ted is a theater performer, speaker, and best selling author. He has created 5 household brands and made millions teaching Coaches, Speakers, and service based Business Owners how to turn their life story and life experience into a lucrative business that impacts millions and makes millions.