Best Organization Apps Perfect For Your Coaching Program
Hi, Ted here, and today I'm going to tell you one of the secrets that help me run a truly lifestyle-friendly business: my best organization apps. Building a multi-million-dollar empire wasn't easy. It was incredibly exhausting for me, especially in the beginning. I made a lot of mistakes along the way. Over time, I realized I couldn't do it alone. I needed an awesome team and great tools that can help me organize and increase my productivity. That's when I started to use these apps.
9 Best Organization Apps That Make Coaching Life Easy
1. Evernote
One of the best organization apps for me is Evernote. It's a note-taking app that's available in different versions. You can download it on Android and iOS. You can also have one on your desktop and Chrome.
If these choices aren't enough, you can sync all your data. Beyond that, it's the perfect organization app for me. I can create notes and group my references. When I need ideas for my blog post, I just go through my "mini-notes" and pick the ones that fit what I have in mind. It's that easy.
Additionally, if I come across amazing stories or references online, I just add them to my notes. I can take snapshots, make attachments, and even collaborate with my team members.
Get organized with Evernote here.
2. Trello
Trello is one of the most popular task management apps out there. It works best when you use it with a team, although it can also be just for you.
This app is an efficient way to keep track of everyone's progress. In fact, it reminds me of the concept of agile management.
For example, if I'm staging a small event, I can create a board for that and identify the main tasks to complete. I can break them down to to-do lists, which I assign to my team members.
Our dashboard will also have various categories of completion. These include work in progress or complete. The assigned team members can move their tasks to the correct completion stage. I can also make a checklist for each role, and they can just tick it as they complete them.
If you want to receive notifications or updates through emails, you can integrate Trello with your Gmail.
Download Trello and start collaborating.
3. Google Calendar
#TipTuesday: Right-click to join or delete a meeting in @googlecalendar → https://t.co/MzMNC3rjqV pic.twitter.com/Crt0FADM0J

— G Suite (@gsuite) November 14, 2017
Speaking of Gmail, another of the best organization apps for me is the Google Calendar.
First of all, even if the price is free, it offers a lot of good features. I like the fact I can make niche calendars. For example, I can make one for my sales team and my free consultation sessions. I can modify the setting so I can see or hide some of them.
Collaboration is convenient with this app. I can invite my team members and determine their level of access. They may invite others, edit the event, or simply view it. They can accept or reject invitations.
I can also coordinate group coaching sessions. Subsequently, I can create a schedule in the calendar, invite my clients, and then the system will simply remind them when the session is about to happen. This is also perfect when you're offering a webinar presentation exclusive to your clients.
The Google Calendar can also act as a to-do app. You can set up reminders and even a list of tasks.
It may be from Google, but you can also get it on iOS and Android.
4. My Minutes
When you're running your business, sometimes you get yourself into the thick of things. You get so involved you end up wasting your time on activities that don't really contribute. They're not helping you generate income.
For this reason, My Minutes has become one of my favorite and best organization apps. It's a no-frills, simple time management tool.
It's a list app where you can write the things you want to do. You can then set a timer for each, and you're done. It's motivational as well since you can track your progress. I like that I can see if I'm doing well with hitting my goals.
I also find it incredibly useful when I am doing a live online presentation or speaking at seminars and events. Long speeches are boring, so I know I need to keep it as brief and concise as possible.
To achieve this, I divide sections of my speeches into themes, put a timer for each of them, and then track. My Minutes is the best tool I've found for this practice.
5. Buffer
Interested in learning all about social media advertising? Our new @skillshare class is finally here! 🚀

Join Us: https://t.co/dXJ4dPX0Qa pic.twitter.com/ClZQPgLqjO

— Buffer (@buffer) November 19, 2017

One of my key marketing tools is social media. For example, I rely on Facebook Ads heavily to encourage clients to sign up for my free consultations. I can then use their stories as social proof, gain credibility in my field, and convert some of them into high-quality clients.
Social media is also a fantastic way of keeping in touch with your leads and clients. It keeps them engaged and ready for conversion later.
But, it takes a lot of time to do. To combat this, I keep it simple and easy by using an excellent social media management platform like Buffer. This one lets you schedule your posts, track your engagement, and use data metrics to further enhance your campaign.
Organize your social media campaigns with Buffer.
6. 24Me
I am enjoying great success in what I do because I have a reliable team working with and for me. However, I understand a lot of coaches, especially new ones, don't have this support system. For those who are starting out, I highly recommend one of the best-rated mobile apps called 24Me.
It's basically an artificial intelligence slash personal assistant on your iPhone (or iPad if it's your preferred device). With it, you can create notes, task lists, and schedules on your calendar. You can also sync your bank accounts, social media accounts, service providers, meetings, etc. Then it does the heavy work for you, including telling you exactly what you have to do at a particular moment.
Get your personal assistant here.
7. SimpleMind
A lot of times when we talk about organization apps, we think about schedules, meetings, appointments, and to-dos. We forgot one very crucial thing: your thoughts.
I can't stress enough the importance of having a clear, well-defined train of thought at all times. It's one of the best ways to make sure you can align your message with the vision your clients hope to achieve. It makes you easier to understand. Clear thinking also gives you purpose, focus, and direction.
To this end, SimpleMind is a beautiful mind-mapping tool. You can download it in Android or iOS. I use it to help me streamline my coaching programs and speeches, making sure I've covered only those things that are essential for my clients.
Sort your thoughts with SimpleMind mind-mapping tool.
8. Cozi Family Organizer
Let's face it, running a business is hard. If you're a coach or a speaker, you'll find yourself spending more time outside the home.
The good thing about Cozi Family Organizer is you can keep tabs on your family even when you're far away. It contains all the schedules and calendars for every member.
Try the social family calendar.
9. Dropbox
Ah, the cloud – perhaps this is one of the greatest inventions for coaches and speakers. When you're always on the go, you want to ensure you can pull whatever content you need anytime. It can be your video presentation or speeches.
Dropbox is one of the best organization apps for those looking for a cloud storage. Besides being able to keep your content, it also allows you to classify them into folders.
Perhaps in the future, I can give you more examples of the best organization apps. For now, download them from their website or app store. Try them out for a week and read user reviews in between to get more ideas how they work. At the end of the week, assess which ones have helped the most and how. Keep refining your use of these tools. If it's necessary, make the in-app purchases so you can access more helpful tools. Watch your productivity soar by then.
What are your best organization apps for coaching? List them in the comments below.
Up Next: 10 Must-Have Online Presentation Tools So You Can Own the Stage
Editor's Note: This post was originally published in December 2017 and has been updated for quality and relevancy.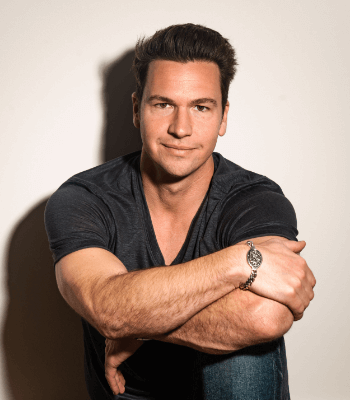 Ted McGrath
Transformation Coach, Theater Performer, Speaker, and Best Selling Author
Ted is a theater performer, speaker, and best selling author. He has created 5 household brands and made millions teaching Coaches, Speakers, and service based Business Owners how to turn their life story and life experience into a lucrative business that impacts millions and makes millions.