14 Must-Have Online Presentation Tools So You Can Own The Stage
The secret to winning your presentation is to own it, and using online presentation tools is one of the best ways to do it. Here are 14 creation tools on the web that boost your engagement with your audience.
Innovative Online Presentation Tools That Are Engaging
How to Pick Online Presentation Tools
I can never count the number of online presentation tools out there, and most of them are amazing. Using a lot of them can be time-wasting, though. What I then do is to set up my list of criteria and then match the tool's features and benefits with it.
Some of my main preferences are the following:
Allows collaboration
Allows online and offline editing and sharing
Can be accessed across multiple device platforms
Has compelling and engaging visual and audio features
Has good technical support (for troubleshooting)
With these in mind, here are my top 14 recommended online presentation tools:
1. Canva
One of my favorite online presentation tools is Canva. This one has both a free and a premium version. Either of the two is great.
Canva is a free presentation maker where you can create different kinds of visuals. You can use the images in their library, which comes with a fee or upload your own. This way, you can further personalize the look. This application makes it easy to build an original design. You can also alter the ready-made templates.
With Canva, you can edit online and download your saved work to your PC. This is a useful tool even for presenters who don't have the skills in designing.
2. CustomShow
CustomShow is for marketing presentations. It works like cloud-based presentation software. You can use its cloud storage to collaborate and share files online. Here, you can customize your presentations based on your brand preference. You can also stream your presentations through its web meetings feature.
CustomShow works across multiple devices such as iPad whether online or offline. It also has its analytics platform, although there's still room for improvement in its data intelligence.
Read Also: How To Create A Webinar Presentation That Sells
3. Genially
Work on your genially with your best friend. Learn how to make it collaborative! 👭👬🤝👍 #Innovation https://t.co/gERvBJydTa

— Genially (@genially_en) September 4, 2017
One of the most interactive online presentation tools is Genially. You can make stunning and impactful visual media. These include infographics and mind maps. It also allows real-time collaboration among users. You can even embed some animation into your presentations. Plus, it can gather its own statistics. It then helps measure the effectiveness of your presentations.
4. Google Slides
Google Slides is one of the most popular slideshow presentation maker alternatives. It is a default tool in your Google account. If you have a Google account, you can use this immediately.
It is also cloud-based so you can collaborate online. You can work on Google Slides using any device as long as you have an Internet connection.
This application is somewhat easy to use. One of its downsides is the limited design it offers. It doesn't promote customization. Its history and accountability features aren't always reliable.
5. Keynote
Another go-to presentation alternative is Keynote. Most of the makers are Apple users. Recently, it has a new cloud version. It now allows you to access it across different browsers and devices.
This makes Keynote capable of real-time collaboration and file sharing. Keep in mind you still need to have at least one Apple device.
Keynote has neat templates and its own transition features. You can apply them to improve your visuals. Plus, it integrates animations. To maximize this presentation tool, though, you need to take the time to learn it.
6. PowToon

If you're looking for a lighthearted approach to your presentation, PowToon is a good tool for you. It's an animated presentation maker where you can create visual media. It provides royalty-free music and designs to choose from. What's more, it allows you to collaborate with co-users on its white canvas. PowToon provides ease of use, and it's offered for free.
7. Preseria
Preseria is one of the must-have online presentation tools if you're planning a conference. It allows you to manage and organize different presentations on one platform. Aside from that, Preseria can project these presentations. The only downside is you cannot change your content with it.
8. Prezi (Personal)

Are the usual slide presentations starting to bore you? If you want to be more creative, Prezi is one of the online presentation tools you need.
A Prezi presentation breaks away from conventions. With this free presentation maker, you can zoom in on the important points of your discussion. A presentation in Prezi uses Pathway Points. This way, you can maneuver the different parts without jumping from one slide to another.
Note, though, the presentations made using its free edition are set to public view by default. It also takes some time to learn how to operate Prezi.
Make a Prezi presentation with this.
9. Slidebean

Slidebean's most popular feature is it's self-creating. You only need to add your content, and they turn it into a designed slide. This online presentation tool is easy to use and requires less time to build a deck. There are also a lot of Slidebean templates to pick. Plus, it lets you track how your presentations are doing. They can pull up data on who's viewing your presentations and even determine viewers' engagement level.
Make a Slidebean presentation now.
Read Also: Online Presentation Tips To Get More Clients | Must-Know Trade Secrets
10. SlideDog
I love smart online presentation tools such as SlideDog. Its beauty lies in the fact you can combine different file types. It can be a PDF, PowerPoint, Prezi, web pages, images, and videos. The app organizes these files and creates a playlist out of them. It also features a live and interactive audience poll. You cannot use it to create presentations.
11. Haiku

Haiku is one of the few well-loved online presentation tools by students and teachers. It's so easy! If you've used WordPress before, you won't experience any learning curve here.
The Haiku deck is well-known for its being gorgeous. You can select from a wide variety of amazing and appealing images. It clears away the clutter as well, so the focus goes straight to your message.
11. PowerPoint Online
Our list of online presentation tools is not complete without PowerPoint Online. As its name suggests, it is the web-based version of MS PowerPoint. It is handy if, for some reason, you don't use the Windows operating system. The features are almost the same. Moreover, you can now add social media posts including live tweets.zoho
Here's a link so you can try it.
12. Zoho

Zoho as an ideal alternative to PowerPoint Online. It works similarly. It lets you embed different types of content, including social media posts such as tweets. You can also apply cool transitions. Didn't I say it tends to act like Microsoft? If you want to use a different "Word version," try Zoho Docs.
13. LibreOffice Impress

You can consider LibreOffice as the open-source version of MS Office. As such, it also has an online presentation tool called Impress. It doesn't have as many comprehensive editing options as PowerPoint. It is simple and comes with different editing modes. Moreover, you can download its remote on your mobile device. You can then use your phone to control the presentation.
Bonus: Slideshare
As a hosting service, you cannot build presentations with Slideshare. Instead, it lets you share your work from other online presentations tools to the public. It is already under LinkedIn, which means it's a reliable business-oriented application.
Watch this video for the online presentation tools that will help you stand out and impress your audience:

Online presentation tools can make life easier for a public speaker or salesperson. I know they've made mine. They make presentations less nerve-racking and more engaging.
Try out these online presentation tools for your next speaking engagement. Don't forget to let me know how it works for you.
Up Next: An Online Presentation That Sells | Tips On How to Create One
Editor's Note: This post was originally published in March 2018 and has been updated for quality and relevancy.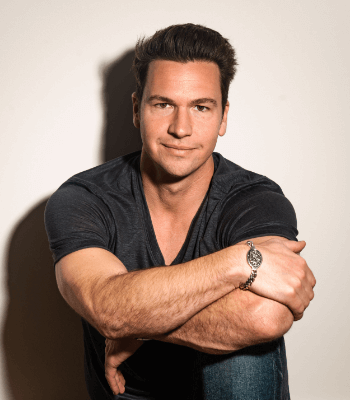 Ted McGrath
Transformation Coach, Theater Performer, Speaker, and Best Selling Author
Ted is a theater performer, speaker, and best selling author. He has created 5 household brands and made millions teaching Coaches, Speakers, and service based Business Owners how to turn their life story and life experience into a lucrative business that impacts millions and makes millions.