My Journey In Becoming A Motivational Speaker | Who Were My Influences
Being a motivational speaker or deciding to become one calls for dedication. Sharing what you know and inspiring others can't happen without commitment. Yet, even speakers like me need our own inspiration. Whether it's the people who influence us or our own inner passion, each of us needs something to drive us forward. Let me share with you the journey I went through in becoming a motivational speaker.
Motivational Speaker | A Journey to Success
Childhood Passion
https://www.instagram.com/p/Bi0IVJHFNVH/
Even as a child, I knew deep inside I was meant to be in front of people, entertaining, and inspiring them. When I was a kid, I used to perform magic tricks in front of my parents.
Then, in the fifth-grade, I had to give a speech about the men who first flew an airplane, the Wright brothers. I loved that class activity and knew I wanted to keep on doing that.
But, I didn't watch motivational speakers when I was in fifth grade. Based on my experience, we need to trust the fact we know. I knew what I wanted to pursue — and it was a huge thing.
My First Career
Speaking my truth and sharing my story gave me the ultimate freedom. pic.twitter.com/gI6aXbuGRp

— Ted McGrath (@ted_mcgrath) April 8, 2017
Though I knew what career I wanted, I still suppressed my ambition. I let other things, like drinking, get in the way. This caused me to feel guilt. I thought I wasn't good enough. I could've become an inspirational speaker or an actor earlier on in my life, but it wasn't the right time for me.
Instead, I started my first career in the financial sector. I became a leader and manager in New York and I was able to train and speak to our agents. I realized the only reason I was there was because I enjoyed teaching and public speaking. It was not about finance at all.
How Films Played A Role
Believe it or not, my love for films had a hand in why I finally pursued motivational speaking. Before, when I watched action movie stars, I'd always admire the passion and the rage they exuded. I also aspired to be able to express myself like that, without inhibitions.
When I got up on stage, it was when I fully realized I had a gift. The feeling of unworthiness and inhibitions faded away as my gift shone through.
For me, it was more of an imaginary thing than a real person who influenced me as a motivational speaker. It was the actors who inspired me, whom I loved watching. It was the feeling I had when I watched movies. Finally, it was me knowing I belonged in front of people, inspiring them. Those were my influences.
My Inspiration for Theater
Without vulnerability, your message loses power. pic.twitter.com/NW0qrPWHXC

— Ted McGrath (@ted_mcgrath) March 21, 2017

For theater, I found the inspiration to do my own show through a performer named Bo Eason. I had seen his one-man performance titled Runt of the Litter, and it blew me away. Never had I seen a Broadway play inspired me so much — that's how good Eason was. He made me aspire to create and star in my own one-man theater show.
I didn't have much experience in theater. I had only taken an introduction to theater class in college. Without experience, I didn't have the confidence to stand in front of an audience. It petrified me.
The Importance of "Role-Playing"
As an actor, you have to be vulnerable and open. In speaking, you can mask your emotions, but when you go into a theater, you need to have and display a full range of emotions, which is actually what I came to love about it. Bo Eason was a huge reason why I was able to realize my passion for theater acting.
Being an actor helped me step into other people's shoes. When I speak, I envision myself as a third person. This helps me disassociate myself from my story, giving me a more objective outlook. While my life story is what I wish to share, it helps to distance my emotions from my past. Emotions can cloud what you want to say. As a motivational speaker, the clarity of my words is what matters most. No one wants to give off the wrong message when they talk in front of a crowd.
My Motivation as a Motivational Speaker
https://www.instagram.com/p/BWm24tYD5cI/
My motivation is simple: to help other people rise up. I've been through hell and back in my life, but I managed to claw my way out of it. Hard work, patience, and determination were the three key values I had to develop. Without these values, I would never have made it out. The strength I found inside me gave me a renewed reason to live and the drive to get better as a person.
This is what I want people to take away from my talks. Strength is within all of us. No matter what part of your life you want to change, you'll need to draw from this strength. This same strength got me to work my way towards becoming a motivational speaker. If it weren't for the time and effort I put in,  I wouldn't be where I am right now. And you can do it too. In fact, anyone can.
Here's a video of one of my first steps as a motivational speaker:
When you look at your own role models or life pegs, choose people who have touched and inspired you. Consider the kind of impact they've made in your life. Though I became a motivational speaker without the explicit influence of other people, it's never a bad thing to find inspiration in someone you admire. What is important is you always have something to drive you to keep moving forward.
Who or what do you consider to be your biggest motivation in pursuing your ambitions? I'd love to hear your thoughts in the comments section below.
Up Next: We Can Change The World | What Inspired Me To Become A Life Coach
Editor's Note: This post was originally published on September 7, 2017, and has been updated for quality and relevancy.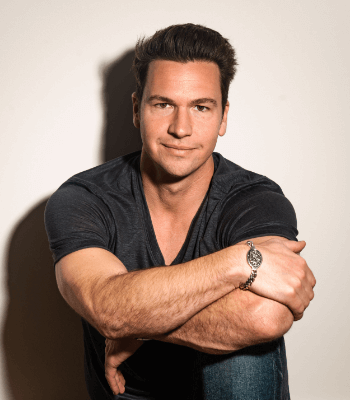 Ted McGrath
Transformation Coach, Theater Performer, Speaker, and Best Selling Author
Ted is a theater performer, speaker, and best selling author. He has created 5 household brands and made millions teaching Coaches, Speakers, and service based Business Owners how to turn their life story and life experience into a lucrative business that impacts millions and makes millions.