My Ultimate Marketing Strategy Guide Guaranteed To Earn You Millions
If you're searching for a marketing strategy guide that will help you start earning millions with public speaking, then this is the list for you. I've been asked several times about what I say and do on stage to get my audience to say yes to my offers. There are many ways to increase your client list and improve your earnings at the same time. Let me share this ultimate marketing strategy guide to help you get seven digits in earnings!
The Marketing Strategy Guide You Need To Earn Millions
Marketing Strategy for Client Enrollment
Would you like to know how to get clients in a month or less? That's not impossible as long as you follow the system I've laid out for you. I have used this over and over to book thousands of dollars a month and hundreds of clients. It never fails.
If you want to learn how to get clients in a short span of time, you need to be precise, methodical, and strategic. Let me show you how you can get clients to enroll for your program in less than a month!
To convert an ice cold prospect, you need just one thing: a deep personal connection. The moment you become relevant to them, they will begin to listen to you. Ultimately, you will learn how to convert ice cold prospects into customers – that is, they will start to pay money for your programs and even high-end offers.
What's the best way to establish a deep personal connection with potential clients? Share your life story.
Learn how to turn ice cold prospects into clients using your own life story.
3. Effectively Sell From The Stage
Mistakes do happen when you're on stage, but if there's one you should never commit, it's not making a call to action. A call to action is the magic to make your audience do something, convert clients, and, ultimately, make an impact.
How do you make an impactful call to action – one that converts to sales? How do you get people to say yes to your offer when you make it from the stage?
One of the most important parts of getting high percentages of people to say yes to your offer from the stage is these three calls to action.
When people buy a program or product, what they are really saying yes to is the outcome. If you want to learn how to sell a product to a customer, the first thing to think of when designing your offer is what's the outcome your audience is looking for?
When you make your offer, you're not selling them yourself and your program. Instead, you're selling their potential to become the person they aspire to be. Learn how to do this with just seven steps.
Do you associate persuasion as a negative term when enrolling clients or in sales? I have never liked this word. That's exactly why I am going to redefine it for you. Let me teach you 5 persuasion techniques that will triple the number of clients you actually enroll.
Keep in mind marketing is not just one strategy. A lot of times, you'll see somebody employing marketing strategies. They'll be doing an automated webinar or a product launch, and you'll think, "This is what I need to be successful." However, what is actually important is an understanding of what marketing is and the ability to think for yourself on how to create powerful marketing strategies that deliver dream clients to you.
Most people think you need to have an email list or some kind of online marketing to expand your network and enroll more people in your live events. The truth is you DON'T. You grow your community through offline marketing – talking to people! Here are three effective ways to expand your network offline!
Marketing Strategy Mistakes
Not Enough Calls To Action
If you're struggling with convincing people to follow your call to action, you may need to rethink the way you present your offer. There are three key mistakes to avoid when making an offer. Moreover, it's possible that you habitually commit them! Learn what these mistakes are and what techniques you can do to make your clients accept the best offer possible.
At the end of the day, there are two primary goals you want to achieve when meeting with a client: achieving a sales conversion and making an impact on their life. I've written many articles about the latter. I've taught how you can influence and transform other people's lives.
However, right now, I want to talk about the business side: how to convert leads into clients. It's not the easiest thing to do, but if you stay with me and avoid these mistakes, you'll learn how to convert prospects to clients and earn millions doing what you love.
Marketing Strategy for Live Events or Seminars
The first thing you must know about how to run your first live event and make it profitable is that you need to act now! The key is to take fast action. Most people are waiting for an opportunity to arise or someone to hand it to them. However, at the end of the day, you have to make it happen.
Learn how to make your first live event profitable with this action plan!

A lot of people say you have to do a big event and get lots of people in the seminar room to actually be profitable. While having lots of people in the seminar room is good, it's just not true that's it's the key to being profitable.
It's not always about profitability. The success, wisdom, and experience you get from doing your first small events are in themselves profit. They will serve as the foundation throughout your career to make you lots of money. Besides, unless your heart is not in this, you can expect to do many small events in the future. You will actually do this on repeat.
Learn how to earn a profit with small events here.
This time, I'm going to share with you what I call the low tier marketing funnel. This marketing technique has been instrumental to my success, and so it's something I like to share with clients. To put it simply, the low tier marketing funnel is a type of marketing sales funnel wherein we sell low-tier products. It differs from the high-tier programs we offer mainly in terms of pricing and product packaging. Moreover, I'm going to talk about how you can integrate online and offline marketing for the low tier marketing funnel. This will combine the best of both worlds and change the game for you.
Marketing Strategy for Closing Deals Effectively
In the competitive world of business today, it is not enough to just be a Sales Professional. Rather, to survive the fierce competition, you must be a Sales Entrepreneur. Being a Sales Entrepreneur means creating value by helping your customer realize their desires and vision. You inspire them to take action now. My book, Never Be Closing: The 7 Essentials for Inspired Sales Success, can help you reach your goals as a Sales Entrepreneur.
12. Make High-End Offers Irresistible
When you sell a high-end offer from the stage, tell people about all the amazing outcomes they will experience through working with you.
Inspire them to take action by showing them the ways that their life will improve through solving the problems they're currently facing. You need to understand who they are and where they're headed. If you can't imagine their journey, you can't offer them anything of value.
Making a high-end offer at your event is never about your personal sense of what your work is worth or any perceived monetary value of what you 'do.' Instead, it's about your client, and who they'll become as a result of working with you. Learn how to market high-end offers with these choice tips.
One of the things I've done well is help my clients understand how to make a high-end offer from the stage. Not everyone might be able to afford it, but by raising your value, you're actually raising the standard. When you raise the standard in the room, people step up to be their best selves and make bigger decisions. Learn how to get your clients to say yes to high-end offers by raising the standard.
How to make selling easy? One, you should not limit yourself to textbook types of selling techniques. They can be hard to remember and implement.
Granted, there's no one method or tool or process that is going to change things for you. I learned that in 17 years of enrolling clients there is no one technique or tool or process that's going to make a difference for you. However, I also learned how to make selling easy by doing one thing: leveling up the quality of people I'm enrolling.
If you create a well-designed program, and you can indeed help them, clients won't mind spending more. Learn how to level up the quality of your clientèle.
When I first started out, I had no idea how to create a product, let alone a whole empire around one. However, now I know that having a means to generate a steady flow of clients and income is essential for a sustainable business.
Building a product empire starts with knowing how to create a product to sell. Aside from that, you also need to learn how to market a product. You can build your business using online marketing strategies. You have systems set up to make sales every single day.
Marketing Strategy to Earn 6 to 7 Digit Revenues
People often ask me, "What are the best marketing strategies you've used to grow your business to multiple millions in revenue?"
I like to keep things simple, so let me share two of the most powerful strategies that have helped me grow my business and spread my message to millions: brand story and blueprint framework. Learn more here.
How can you earn 6-digit revenue from your programs and services and build a lifestyle friendly business? I can teach you the essentials you need to package, structure and price your programs and services in order to generate a sizable income month after month. Let me help you share your message with your dream clients while having the freedom of time and freedom of money you need. All you need to do to start is share your own story.
It's not uncommon that my clients go on to earn six figures through their businesses after we've worked together. You're probably wondering, how did they do that? Today, I will share with you the three most important things you must accomplish to understand how to make six figures and achieve your dreams. A lot of times people think that this is a tall task, but it doesn't have to be. However, if you want to become a six figures speaker, your next live event must run on these three factors.
Marketing your product to attract more clients doesn't have to be a tough order to fill. You just have to remember that getting a profitable income will entail lots of planning, effort, and dedication. I always knew that I was meant to share my story and help make people's lives better. Still, I still had to learn and work hard to excel. Read through my marketing strategy guide to start earning millions as well!
What do you think about this marketing strategy list? Comment below!
Up Next: 6 Proven Steps To Have Dream Clients Delivered To You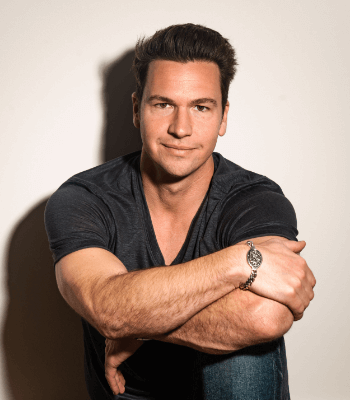 Ted McGrath
Transformation Coach, Theater Performer, Speaker, and Best Selling Author
Ted is a theater performer, speaker, and best selling author. He has created 5 household brands and made millions teaching Coaches, Speakers, and service based Business Owners how to turn their life story and life experience into a lucrative business that impacts millions and makes millions.