Finding Your Life Story And Message With These 5 Most Powerful Steps
If you're someone who's planning to start a business but don't know how or is already on such a path but is still struggling, here's my advice for you: find your life story. It will be your ticket to launching a lifestyle-friendly business that delivers an immediate and consistent cash flow from your dream clients. You are not just an enterprise – you are someone making an impact on other people's lives.
Let me show you five powerful steps that will teach you how to write about your life and inspire transformation in others.
How To Craft A Life Story and Make an Impact
There's a new celebrity in the world, and it's you. It doesn't matter whether you're a businessperson, an artist, a doctor, a housewife, or a person who feels like a nobody. You have a voice and a life story that's going to change not only your life but also others. You have the power to make a positive impact and help others find their transformation as well.
The Importance Of Having A Life Story
Why is your life story important? The answer is simple: authenticity. When you're authentic, you become believable. In the same way, you learn to build a business or a marketing system that revolves around your real, natural passion.
Your life story also delivers transformation, and this is essential. Remember, clients don't buy programs — they buy transformation.
Struggling to enroll clients? Make sure you're clear on how your product or program delivers what THEY want. pic.twitter.com/r0LJXdlBaI

— Ted McGrath (@ted_mcgrath) August 13, 2017

Another good reason is you can build a business that's unique to you. When you share your life story and message, it allows people to connect with you and inspires them to want to work with you to experience the same transformations and breakthroughs you did. This is powerful and authentic marketing.
1. Master the components of a life story

Right now, you may be asking, "How do I write my life story?" When I talk in seminars or coaching programs, I don't talk about my life history in its entirety. Rather, I focus on two important components: Pit and Breakthrough.
The Pit is the problem you're trying to solve for your client. It is your darkest moment in your life when the struggle was truly real. In fact, it can be a time when you felt like you wouldn't be getting out of it alive!
The Breakthrough, meanwhile, is the outcome you're selling to your client. It is the transformation – the realization – you want to send a message to your audience.
Here's An Example
You can read a part of my story here. In summary, I was a person who wanted love and approval all the time, and it drove me to work hard and chase after every dream to the point of exhaustion and desperation. When I was barely in my twenties, I earned a six-figure income working in a New York insurance firm. Rather than celebrating my victory, I found myself almost dead because of drug and alcohol overdose.
I don't recommend everyone visit rock bottom, but if you have, maybe it's time to learn from it and teach others. pic.twitter.com/etF79dwXUd

— Ted McGrath (@ted_mcgrath) June 26, 2017

I then realized money wouldn't give me what I wanted, but I didn't stop there. Instead, I climbed myself to the top, hoping to achieve a status so people would approve of me. However, when I became the top 5 partner of the company, I felt empty. I asked myself, "Is this all there is?" That was my breakthrough!
As you go through the other steps, you will learn how the Pit and Breakthrough have provided success beyond expectations to my clients. For now, master both of these, and the other steps below will be much easier to follow.
2. Follow this messaging formula: I help people do this, so they can have that

Now that you've determined your life story and message, it's time to send it to your audience. However, what's the most effective way? Create the dream or vision. Help people do this so they can have that.
I want you to read my favorite success story. Alex Moscow is someone who earns as much as a seven-figure income despite his stutter. How did he do it?
He started with a Pit, which was his speech impediment. He shares how it brought him to shame as young as six-years-old. Now, instead of viewing it as a disability, he uses it to create an effortless enrollment system (help people do this) that trains his high-end clients to communicate (so they can have that).
Will This Work With Existing Businesses?
You may ask me, "Ted, will this formula work even if I have already a business?" Yes, it will. In fact, it will stop you from calling every possible client (which can take a lot of time), and give you a lifestyle-friendly business that generates a steady income anytime and anywhere.
Take, for example, Dr. Rene Sacharny, a genetic nutritionist. When she enrolled in my program, she had already begun transforming the lives of her colleagues, but she wasn't making any further headway. A huge part of her problem was too much focus on illness and pain.
With my coaching, I helped her identify her Pit, which was her health issues such as obesity. Then, I gave her the tools in life story writing. We then used it and her transformation to create her retreat and wellness experience called Embody.
Today's modern warrior doesn't come armed with a sword, but with truth and vulnerability. – Ted McGrath pic.twitter.com/8NYck17XyH

— Ted McGrath (@ted_mcgrath) February 1, 2016

In her program, she helps people understand the root cause of fatigue, body pain, and overall feeling of ill health so they can get their lives back.
For her first workshop, she had only 7 to 8 people, but it gave her $45,000 in one day.
Create a life story to find the message. From the message, you can create a system that pulls in your dream clients. With the right market system, you can develop a steady stream of income. From this consistent stream of income, you'll have a lifestyle-friendly business, and this lifestyle-friendly business will help make an impact on other people's lives.
RELATED: How To Find Your Message So You Can Spread It To Millions and Make An Impact In The World
3. Build a lifestyle-friendly program
When I started helping others make their own programs to change other people's lives, I was earning a lot. However, I also wasn't completely happy. I was spending a lot of hours per day just calling my dream clients one by one. I still felt I wasn't reaching my own potential, and it was inefficient.
A part of my marketing system is creating group coaching programs that convert. With this setup, I can reach out to my dream clients simultaneously without compromising the quality of my message.
Not only that, once you learn my marketing system and how to price your programs accordingly, you can earn money no matter where you are in the world.
This reminds me of David Mehler. He's a chiropractor by profession, but he also builds and maintains a brand called Man on Fire. This came from his Pit when he had to deal with the dementia of one of his family members and his wife's cheating and leaving.
His Pit motivated him to create a program that helps bring back the passion and fire of men who feel lost, confused, tired, and broken. With this program, he's not limited to a physical space. He takes his program to different parts of the world through special workshops and retreats.
4. Generate an immediate cash flow
You don't have to 'do internet marketing' or have an email list to earn 6 figures – here's how I did it: https://t.co/A21trOHg3t pic.twitter.com/VY0PpvTGGU

— Ted McGrath (@ted_mcgrath) June 10, 2017

With your life story, you can build a business within 60 to 90 days and start earning immediate cash flow. Besides the workshops and retreats, David also earns money through his membership subscriptions, as well as other online courses.
5. Create consistency with the right marketing system
In the end, it's not enough to just have a life story and a message. You need to be consistent in attracting your dream clients and generating your cash flow. What you then need is the right marketing system in place.
"If you ever want to get paid for your life story and message, you have to have a statement that communicates you… https://t.co/Z7oxs5ukOt

— Ted McGrath (@ted_mcgrath) August 12, 2017

Let's not end our talk about life story here. Right now, I want you to grab a sheet of paper or open up Word or Notepad on your computer. Then write your Pit and Transformation. After, ask this question: What is its worth to your actual or dream clients? This will get you going on the road to success.
What is your passion? Share it with me in the comments below.
Up Next: Can Anyone Succeed? | Make It Happen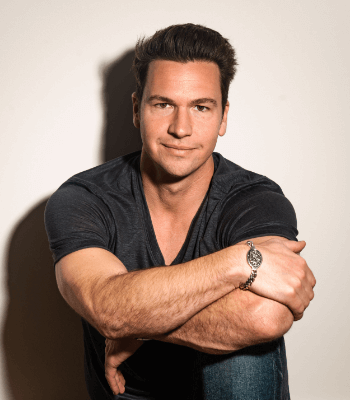 Ted McGrath
Transformation Coach, Theater Performer, Speaker, and Best Selling Author
Ted is a theater performer, speaker, and best selling author. He has created 5 household brands and made millions teaching Coaches, Speakers, and service based Business Owners how to turn their life story and life experience into a lucrative business that impacts millions and makes millions.