How To Get Booked As A Speaker On Other People's Stages
Learning how to get booked as a speaker can happen as quickly as 30 days. In fact, you can achieve this while you're on other people's motivational speaking events. You can also seek the help of some professional speaker agents but it's better to do it yourself and look for speaking opportunities at conferences or schools. The key is to get in the game, start doing it, and making it happen. Read on and find out how to get booked as a speaker in 30 days!
How To Get Booked As A Speaker | Speak On Other Stages In 30 Days
In this article:
Understand The Principle of Adding 10x Value
https://twitter.com/ted_mcgrath/status/896522779138424833
The key to understanding how to get into public speaking and getting booked on other people's stages is to add 10x value to those people. Their stage is a valuable and profitable asset and they won't give it away for free.
What do you have to offer to motivational speaking events? If you have a list or have to run an event, it's a great asset to offer up as an exchange but having a list or a stage is not the sole answer to getting a booking on someone else's stage.
Find where you can add value to somebody and go do it. Can you make introductions? Put people in their room? What do they need that you can provide? Most people discount their value by ignoring their gifts. Sometimes getting on stage means you can share your gift with other people. You can add value to someone else's life.
Let's say you join a meetup group to expand your sphere of influence. You can add value to other participants in the group by being a contributor, just showing up, and add value by being yourself and sharing your gifts. What do you know that they don't? What can you help them with? If you want to get on big stages and start booking clients, you need to develop relationships with the stage leaders. Keep adding 10x value. Keep building your relationships.
You may have to give without getting anything in return but ultimately you will get on stages. Doing this work leads to being in front of big audiences and making more money and serving more people.
Take Action Now: Start by honoring your gift. Make a list of the gifts you have and the different ways you can add value to people.
Know The Stages You Want
Which stages are right for you? Make a list of the people you could serve and the seminar stages you want to get on. You can split your list into two: immediate stages and big stages.
Immediate Stages: These are those with smaller audiences like a local meet-up group where you may speak for free a few times by adding value and letting people experience your gift. You can use these smaller stages as opportunities to make new connections and partnerships and find new speaking opportunities.
Big Stages: These are the fantastic ones you dream of speaking from. They're an amazing resource in the journey of understanding how to get booked.
You may have to negotiate to reach those big stages. If someone says no, what can you do to make them change their mind? Can you put high-value clients in their room for that seminar in exchange for stage time? If they won't offer you a 90-minute speaking slot, can you get 10 to 15 minutes?
Prepare for these opportunities by creating your presentations in different lengths and styles so you always have something to offer. It's a good idea to create a couple of topics within your niche because you may be competing with other speakers who have the same topic.
Take Action Now: List the big ten stages you want to be on in the next year. The people who own those stages are the people you want to start building relationships with and adding value to.
Get Into Social Media
https://www.instagram.com/p/Bix3-aXlXPy/
If you're serious about learning how to get booked as a speaker, then perhaps you should take advantage of the internet. Discover the wonders of social media and how it could help you build a solid fan base.
Most people are on social media. If you put the right content and target the right audience (or fans in Facebook), you're sure to get more booking days after the word is out that you have your own place on the internet. Not only does this help you gain publicity but you also attract like-minded people.
It will take time, sure, but you can try advertising your best content first. If it's that good, people will start noticing you faster.
Take Action Now: Start with a Facebook fan page and/or a YouTube account, whichever is easier for you. If perhaps you already have the hang of it and want to expand, then try making a website or blog about speaking. Once you're a pro at it, you can even let your readers or fans subscribe to your blog via emails.
Create a Professional Speaking Press Kit
The purpose of a speaker press kit (or media kit) is to inform potential clients about you and to get more publicity, be it on TV, radio stations, magazines, newspapers, online media, or events. This also helps you get noticed by professional speaker agents, publicists, promoters, media outlets, journalists, news desk managers, local brands, and the like.
A solid speaking press kit includes a brief but informative introduction about yourself and speaking. Include your biography, but not too much, or else your clients might get bored reading it. Of course, do not forget to include your contact information, accomplishments, previous publicity, and photos. A speaker sheet may help too, for a quick overview.
You can have your press kit printed or in digital format, such as a PDF file, whichever suits your preferences. Perhaps it is better to have both so you can be ready for whatever your client may prefer.
Take Action Now: Start creating your speaker press kit. You can check out this article on LinkedIn to help you get started.
Hold Your Own Seminar
Your own seminar room is an asset. After your first seminar, you'll have a better understanding of how to get booked as a speaker on more stages. It's one of the fastest ways to do anything.
If you hold a seminar with 30 to 40 people in your audience, you're already doing a great job. You can invite 2 guest speakers to join you and use your stage to negotiate something of equal value in return. They can give you a speaking slot on their stage or do something of equitable value (introduce you to people, add people to your list, bring people into your seminar room, etc.).
This is easy to scale up. If you do three seminars throughout the year and have two guests at each, your guests may also book you at their stages. This may give you two new stages as a result of each seminar you host, resulting in speaking slots on six stages!
Take Action Now: Set the date for your live event – no maybes. Set the date.
Give and Take
https://www.instagram.com/p/BixTNvplEco/
Now, call somebody in your network whom you know is hosting seminars and invite them to be on your stage. When they accept your invitation, ask if you can be on their stage in return. Meaning, you give them a chance to promote their seminars and they return the favor to you.
Not everyone is born with a talent for speaking but you can create your own destiny. Learning how to get booked as a speaker doesn't have to be complicated. Focus on your message, your life story, or statement. Also, learn how to make your offers and create an impact on other people's lives. Build connections. Lastly, put the word out through your friends and make the most out of the internet. I have no doubt you'll not only convert the audience into clients but you'll also get a chance for more venues to speak at later. You're that awesome!
What was your experience with getting a booking as a speaker? Was it difficult or easy? Share your story with me in the comments section below!
Up Next: How To Be A Great Speaker | 5 Versions of the Superstar Speaker to Transform YOU into a Star
Editor's Note: This post was originally published on September 11, 2017, and has been updated for quality and relevancy.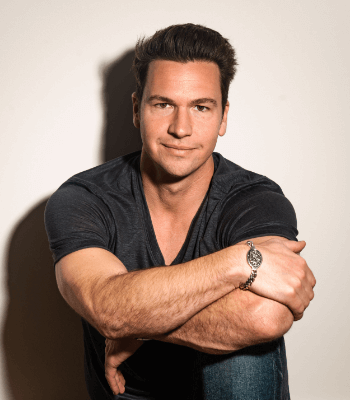 Ted McGrath
Transformation Coach, Theater Performer, Speaker, and Best Selling Author
Ted is a theater performer, speaker, and best selling author. He has created 5 household brands and made millions teaching Coaches, Speakers, and service based Business Owners how to turn their life story and life experience into a lucrative business that impacts millions and makes millions.