How To Create A Product Empire | Marketing To Millions
In this training, I'm going to talk to you about how to create a product empire. When I first started out, I had no idea how to create a product, let alone a whole empire around one. However, now I know that having a means to generate a steady flow of clients and income is essential for a sustainable business. Building a product empire starts with knowing how to create a product to sell. Aside from that, you also need to learn how to market a product in social media, through an e-commerce store, or a Shopify store. Let me share with you effective strategies you can use to build your own product empire.
How to Create a Product and Sell It
In this article:
Create a Strategy to Have a Consistent Income
A lot of people who are into coaching and live events don't have a strategy to create a consistent stream of clients and income. They may not have ever even thought about how to create a product empire. Instead, they have a strategy where they always go out to get all the clients. Often, people who are in this business are trained to network to get new clients. Personally, I think learning how to do this will gain you an invaluable skill set. It is important to have the ability to network, run strategy sessions, and enroll clients.
However, in the long run, building your business only with those strategies is a one-way route to insanity. You're going to have less time, you're going to experience burnout, and you'll feel like all the weight is on your shoulders.
The good thing is, you now have another option. You can build your business using online marketing strategies where you have systems set up to make sales every single day. You can either put off seizing this opportunity or dive right into it.
Still, here's a disclaimer for the strategies I'll be sharing with you: they take a lot of work. Understanding how to create a product empire can get challenging at times. If it was the easiest thing in the world, everybody would do it. I'm talking about the kind of product empire where you really think about your strategy. As I have discovered, if you don't know where you're going, then ultimately you won't have the confidence to create your own products. Clarity of vision creates confidence to take action and move forward.
Launch Your Product Empire
Now, I'm going to give you the clarity of vision by showing you what I do in my business. When I started out, I focused on coaching. My business model was one-on-one coaching because that gave me income and cash flowed into my business.
Generating income is critical when you launch your business for the first time. You need clients that are going to bring in money. To sustain the cash flow in your business, you need to target a certain number of clients.
While you work on meeting your client target, don't limit yourself to this single task. Rather, you should always strategically plan how you can grow your business for the long run. Some businesses eventually evolve to add on group coaching aside from one-on-one coaching.
The second thing I did for my business was to start a group mastermind or group coaching. I coached ten people one-on-one, and then I put those ten into one group. This freed up more of my time and allowed me to gain more income. This extra time also allowed me to dedicate part of my schedule to figure out how to create a product empire that I could always fall back on.
Find Better Solutions
The whole point of the product empire is to free up more time and make more impact and income as you go. Initially, for me, the answer was a group mastermind. Eventually, I thought of a better strategy to get clients — and through seminars. At that time, I still knew nothing about online marketing. Instead, every strategy I had was offline (now if you're not a speaker, that's cool. You don't have to do seminars to get this).
I wanted to create more impact. Yes, it takes work to get people in a seminar room. However, I knew that if I could get more people in one room, I could sell more one-on-one and group coaching programs. Doing seminars gave me more clients.
In my first seminar, I got 27 people in the room, but I wasn't able to sell. I lost money. This is what I knew about building a business. When I wasn't doing seminars, I went to networking events to sell my coaching programs. I did these tactics for four years to get clients.
Leverage Online Marketing

Eventually, I again realized that I needed another way to funnel clients into my programs. I needed an easier way to market my seminars to get more people. I tried out online marketing for the first time through a webinar and then got joint venture (JV) partners to promote it.
If you're unfamiliar with webinars, they're an online presentation. My webinar was roughly 90 minutes long. Its goal was to sell to get more people in the seminar room.
In order to launch my webinar, I actually had to create a product that could be sold online. This is because it can be harder to get people to come to your seminar if you sell the event directly. People want to consume something right away and waiting for months for an event goes against that.
When I started online, I initially went big. I created the Message to Millions online training, which has seven modules and 20 hours of content. I recorded a course, which was a lot of work to create. Still, I don't regret doing this because it's a way for me to sell online. Your program and webinar both have to be really good.
I sold my Message to Millions online training for $2,000. I started to make sales just through online presentations. Then, when people bought my $2,000 training, I gave them tickets to my live event as a bonus.
RELATED: Understanding a Marketing Funnel | How To Create One
Your Target Audience = Your Target Market
Of course, all of these strategies are just an intro on how to create a product. Before you even draft a business plan, create a company, or think of the product launch, what you're offering on the table should be solid first. Much of what we've talked about so far involves a top-down approach when the product roadmap is more of a bottom-down approach.
The first thing I learned about how to make a product is to listen to your customers. Your usual customer has a lot of advice to offer on what your product strategy should be. When they talk about their pain, they are actually giving you an idea for a new product. And this new product is the solution that will take the pain away.
You can think of a product idea right now. Imagine your potential customers and then think of someone who represents them best. This representation is the buyer persona. Interview this persona in your mind and ask what will solve their problems right now. Go through the process of letting them give you the product type, the design, the product description, what product variations they'd want. Take notes and start creating the prototype for a minimum viable product.
Now you can go and think about building the marketing machinery for your product empire. All of these sum up to what I call your product empire.
Grow Your Empire Through Your Products
Here's the key thing: when you're trying to figure out how to develop your business and how to create a product empire, everything should build on everything else. For instance, you come up with a one-on-one program. Then when you decide to have a group program.
If you're like me, you might also use seminars as an entry point to sell your programs. When I made the decision to organize seminars, I didn't think that I was switching gears and changing my business model. Rather, the purpose of the seminar was to supplement the business model that already existed.
When I created a webinar, my purpose was not to sell a product that's not related to my business. The goal of the webinar was to sell a product that would get more people into my seminar room.
Utilize Automation and Partnerships
I remember there was a time when I got invited to London to perform my one-man show. A theater actor who was doing his own one-man show offered to coach me. I wanted to take the opportunity, but the problem was, I had a seminar coming up.
My time was not really freed up, because I still had to fill the seminar I was organizing, and the way for me to do that was to go to networking events. Because of this schedule conflict, I couldn't go to London.
However, at that time, I had also been developing a webinar. I was in the testing phase of the webinar and was meeting with different joint venture partners. My list was small then — it only had about 7,000 people. I wanted to get joint venture partners that had more than 10,000 people on their list so they could help me with the promotion.
As I talked to my JV partners about the offer I got from London, I realized that I could still fill my seminar while I was away. I did so by creating a recorded or an automated webinar. It was able to sell my Message to Millions program (which included free tickets to my seminar) even though I was not physically present.
Now, if you don't have a product yet, you can sell a seven-week course, which you will deliver live. The recording of that weekly course can eventually become your product.
Explore Alternative Opportunities
You can explore other opportunities that will free up your time and generate income as long as they fit into the puzzle. I was able to launch my automated webinar when I went to London. Through it, I was able to sell 41 Message to Millions programs, which helped me fill my live event. I accomplished all this while performing my one-man show in London. Now you can see how each of my marketing strategies supplemented each other. Success, right?
I also realized that creating an online product and getting joint venture partners are smart ways to grow a business. JV partners can help you promote and sell your products. Keep in mind that it takes a lot of time to build up this kind of partnership. It took me about six months to build relationships with my JV partners before I had the courage to launch it. I saw that my business could grow through it, but it was also limited.
Launch New Products: Low-Tier Offers
There are only so many JV partners you can get in your business. I quickly saw that this model of getting JV partners was limited. I realized that to really bring in a consistent stream of income, I would have to create new products for my business.
Message to Millions is a high-tier online product. Anything that sells from $797 to $2,000 can be considered high-tier. With this in mind, I created low-tier products that sold within the range of $37 to $97.
Message to Millions is a comprehensive program. It is about finding your life story and message to get a consistent stream of clients. Then you spread that message to millions of people so you can have a lifestyle-friendly business. It covers everything — your story, message, programs, enrollment system, group programs, online programs, and marketing. I might have been selling 300 of this program in a year. Still, I realized that having 300 customers in a year doesn't give me a product empire. How can I create a product empire that's of good quality though?
I started to think about elevating my customers from casual buyers to more serious buyers. After all, their level of investment goes deeper each time they elevate their purchase value, and I wanted to tap into that.
Elevate Your Clients' Purchase
People in the same business as me encounter the same challenge. That is, they don't have a real consistent business model for bringing in revenue. They have one signature program. They get people in their seminars where they sell their coaching programs. However, they don't have a consistent marketing strategy.
I wanted to sell low-tier products, so I looked at the comprehensive program that I had and thought, "What's something essential that people absolutely want?" My answer was people want to get clients quickly.
I created a system called the "fast client formula" that shows the basics of getting clients. It's made up of four videos, and I put it in my low-tier program for $37. I also created a $97 program that teaches how to get clients consistently.
I established my low-tier offers as a way to bring in new clients. Through them, I sent out the message that if people want to work with me, they don't have to spend a lot right off the bat. They can buy my low-tier products first. Then, if they enjoyed my content, they can elevate their purchase to my high-tier products.
There's a certain percentage, the serious people, who go right into the high-tier products. However, the natural decision-making process for most people is to make low-tier purchases first before bringing it up higher and higher. That's why it is important to have low-tier products.
Launch New Products: Mid-Tier Offers
https://www.instagram.com/p/BfqthAWA5N3/
Aside from low-tier products, you also need mid-tier ones to bridge the price gap. For my mid-tier offers, I created a membership subscription. Marketing to Millions is also a monthly subscription program that you invest in.
Mid-tier products is often a subscription program like this that brings in recurring revenue. While you bring in one-time payments from your low-tier products, you also need recurring revenue. The answer to that need is subscriptions. This could be priced within $17 to $97 a month. Some even go as high as $197 a month. Through this, you get consistent revenue, and somebody is consistently partaking in your brand through subscription products.
For my business, I also added $497 products in the mid-tier offers. One of them is the Product to Millions program, which shows you how to create a product or many products, and how to set up marketing funnels and systems for them.
Read Also: Stand In Your Value | How To Price Your Service According To Its Worth
Product Empire: The Big Picture

Notice how my business model has evolved? Before, I used to do all the legwork to bring in clients. I went to networking events, coached clients one-on-one, then in groups. I also put up seminars to get clients to my coaching programs.
Then I started to think more strategically about leveraging time. Thus, the staircase model was born, which began with the first step — the low-tier products. The second step is the mid-tier subscription products. The third step is the high-tier online training. By the way, these are all online products.
The product empire I've created is made up of online products. They get sold without me having to do legwork as before. We bring in 600 customers a month with this suite of products.
You might also be considering working with JV partners to help you launch your products. Take note, though, that getting JV partners takes just as much time as creating low-tier products and getting traffic through Facebook. We drive traffic and bring in 600 clients a month using Facebook advertising. That's the vehicle that drives the leads so we can get buyers that will ultimately make higher purchase decisions.
So the question for you is, if you're not online yet, what's your strategy going to be? If you're already online, what's your next move to create a comprehensive system to accomplish this?
I can tell you, by just using Facebook advertising, we make about $300,000 in sales a month. Facebook makes the bulk of the sale, and then we elevate customers to buy high-end products. Just a disclaimer, though: it doesn't mean we collect all $300,000 upfront every single month. We collect a portion of it up front, and then the rest of it is paid through payment plans. But the revenue is consistent, and that drives the company.
Limitations of Offline Marketing
The reason why offline marketing is limited is that it's a one-hit wonder. Unless you're doing networking events consistently, your coaching, and even the seminars you organize are all a one-hit wonder. After each session, you wonder where your next client will come from.
Now, this doesn't mean that you shouldn't do offline marketing. It just means that you have to come up with a strategy to consistently bring in clients into your business. My suggestion is that you start by asking yourself how to create a product that fits within the low-tier register to get clients. Get buyers to start building a brand that's going to bring people in. Then you sell them to your different products, where they make higher-value purchases as they consume more of your products.
Buyers will continue to buy, and that creates a sustainable flow of cash for your business.
That's the model I wanted to share with you on how to create a product empire. This model is how you will grow your business. However, you've got to decide where you want to start — maybe by creating low-tier products and setting up your marketing funnel and systems to make sales for you. Growing your business step by step creates consistency. Ultimately, consistency is what you need to have a steady stream of clients and income for your business.
Do you now understand how to create a product empire that will streamline your income? Share any further questions you have with me in the comments section below!
Up Next: Starting A Business? 5 Lessons You Need To Know
Editor's Note: This article was originally published in October 2017. It has been updated for accuracy and relevancy.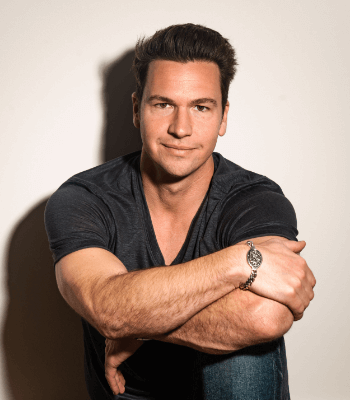 Ted McGrath
Transformation Coach, Theater Performer, Speaker, and Best Selling Author
Ted is a theater performer, speaker, and best selling author. He has created 5 household brands and made millions teaching Coaches, Speakers, and service based Business Owners how to turn their life story and life experience into a lucrative business that impacts millions and makes millions.