Good Enough | My Inspiration Behind The Show
Do you feel as if you're never good enough? I struggled with the same feeling. However, my journey will show you why you are a person of worth.
Good Enough | My Life From Big Losses to Strong Wins
I believe it's possible for coaches, speakers, and service-oriented entrepreneurs to pursue multiple passions. That's just what I did with Good Enough.
Good Enough is my one-man show where I play ten different characters, all of whom are essential people in my life's journey.
My life story has inspired me to not only share my message of hope and victory by overcoming fear and objection, but also to truly make an impact in the world.
My show tells how I transformed from a kid who felt unworthy with divorced parents to a confident man pursuing his dreams and ambition.
A Creative Child with Divorced Parents
Even before I created Good Enough, I've always known I would love to be an entertainer. Being a creative child, I felt the happiest performing and expressing myself in front of people.
I remember performing magic tricks in front of my parents together with my magic chest. I always liked being in front of audiences, and I liked expressing my creativity and myself. When I was young and in grade school, I did some skits. They were very short, but I loved them.
However, subconsciously, I felt I wasn't good enough. Even though I had dreams and desires I wanted to pursue, I grew up struggling and battling with my own insecurities. It took me various experiences to become the man I am today — good enough to pursue my dreams.
The Defining Moment
When I was 21 years old, and I started in the professional world, I had a boss who said, "Hey, you can go out and crack six figures your first year in this business."
I believed him not because I knew I could do it but because I wanted to have his approval.
Whatever your lowest point was, you can learn from it and you can teach others because of it. pic.twitter.com/Zl7VpRhJVF

— Ted McGrath (@ted_mcgrath) October 24, 2017
I put my head down and went out and cracked six figures. However, on the same night, I ended up overdosing and nearly died. The reality is, that night almost ended with my life's story, my message, my purpose, and my dream inside of me.
That was a defining moment because I feel so many people in the world today are driven to a different path. Rather than inspiration and aspiration driving them to go live their dreams, the feeling of not being good enough pushes them to work harder just to gain approval from others.
My Family Who Are Too Different
Some of the central characters of my Good Enough show – and my life – are my family.
My parents are worlds apart. My mom came from an educated family who was very white-collar. The "Go get educated, go to college, go get a career" kind.
On the other hand, my dad came from a family where "college" was a foreign word. He himself barely graduated high school. Although my dad was a blue-collar guy, he came from a family with an entrepreneurial background.
My brother as a character is also in the show. We were very, very close growing up, so there's a bond between us. Throughout the show, you'll see how that connection, over time, became less and less. We eventually broke apart until we rekindled things and re-established our relationship.
Revealing My Days of Indulgence
In my Good Enough show, I present people or characters who indulged my wild, crazy side while growing up. I lived a life of drinking, doing drugs, and being destructive.
These people I pulled in along the way were crazy, fun, and interesting to watch. Despite them not being the best role models of how I want to be in life, they were essential for me to show that going through life involves going through the transformation of believing one thing.
I made my life about that as a young kid because of the things I went through, including feeling unworthy when my parents divorced.
Additionally, when I was younger, I had sexual experiences with a boy and a girl much older than me. Even though I felt a lot of shame and embarrassment around sex, the wild side of me gravitated toward a lot of that stuff.
The Transformation
Although it took me years before I got to the point of transformation, I did. I had a breakthrough. Since then, I've never looked back.
When you watch the show, you'll see this balance between craziness and transformation. This is what the show is about – my journey from making these crazy decisions and not feeling good enough to ultimately finding my dream and feeling good enough to go after it.
But believe me when I say I am not condemning or even regretting the past. Despite the fact my life was destructive in many ways, it was also a lot of fun.
The good and the bad helped create meaningful relationships, which further helped me grow as a person, coach, and speaker.
Helping Other People Feel Good Enough
I followed my dreams as an actor and a theater performer. I also followed my dreams as a speaker with my brand Message to Millions, spreading my life's story and message across the world and inspiring other people to do the same.
Despite my struggles in the past, I was able to build a real career out of my dreams. Though I've accomplished both of my goals now, I still want to see how far I can go with them. That was the inspiration behind Good Enough.
Building an Impact-Centric Brand
With Good Enough, I show very important points: you have a life story to tell, you have life lessons to teach, and you have a message to share with humanity. All of these beliefs make up my Message to Millions brand.
With Message to Millions, you can attract your dream clients, earn a consistent stream of income month to month, and build a lifestyle-friendly business that gives you freedom in your time, money, and ability to live anywhere in the world. And the best part? You can make a massive impact sharing that message with millions.
Who is this for? It's for the coach who wants to change somebody's life or the speaker who wants to share his or her voice with the world. How about the consultant or the practitioner who's not paid properly, trading too much time for too little dollars? Or the service-based business owner who feels chained to a desk or stuck in an office all day long, a prisoner of the business?
Speaking my truth and sharing my story gave me the ultimate freedom. pic.twitter.com/MMoBqpwc13

— Ted McGrath (@ted_mcgrath) October 23, 2017

I want to share the message with the author who wants to make a bigger impact with their book, or the celebrity entertainer or artist with a gift inside that wants it to be a real career. I even want to share my message with the professional stuck in a dead-end job, but who wants a meaningful career sharing his or her life story and message. That's what Message to Millions is all about.
Good Enough was born to really help people realize their worth, the gift inside of them, and the strength to accomplish and live their dreams. I tell my own life story as a representation of these things.
Have you gone through a period where you feel you're not good enough? Share your inspiring life story with me in the comments below!
Up Next: How I Built My Multi-Million Dollar Company from Scratch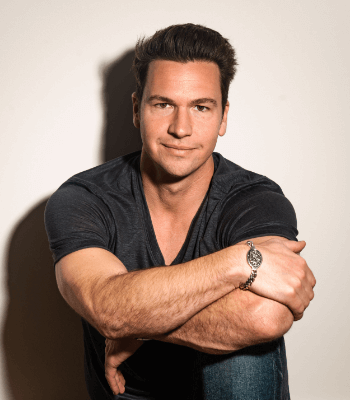 Ted McGrath
Transformation Coach, Theater Performer, Speaker, and Best Selling Author
Ted is a theater performer, speaker, and best selling author. He has created 5 household brands and made millions teaching Coaches, Speakers, and service based Business Owners how to turn their life story and life experience into a lucrative business that impacts millions and makes millions.