How to Utilize Facebook Traffic for Lead Generation
Do you know you can use your Facebook traffic to generate leads for your coaching program? Today, I'll show you a system that gets them from your social media to your mailing list.
From Facebook Traffic to Leads | Learn How to Convert
What does Facebook traffic training really mean? Well, with my help, you'll learn how to get a lead via my trusted sales funnel technique. Additionally, I'll teach you how to create Facebook videos and ads that convert.
You might ask, "Why is Facebook traffic so important? I already have a website."
You can actually have both. You can even also have a YouTube and LinkedIn. All of these are good online marketing channels. However, based on my experience, the Facebook platform is already enough.
Facebook has over a billion people around the world registered to their site, with millions of active users every day. These are the people who check their accounts daily. On average, they spend 40 minutes on the site.
With stats like these, it makes perfect sense to target Facebook traffic. After all, that's a lot of people and attention you can target for your funnels.
Know the Purpose
There are three goals you should have when you're doing Facebook lead generation.
The first is to grab attention. After all, the purpose of having Facebook ads (or even videos) is to get the attention of the customer. This is number one because without the success of this goal, your marketing strategies are useless.
The second goal of Facebook lead generation is to display your brand and show people what you're about. You can't expect them to learn everything about you, but by giving them an idea, you can start building a connection and increase their interest.
Third, you want to develop engagement with your potential customers. What does this mean? Quite simply, you want them to interact with you.
For example, when we put an ad up that says, "Hey, if you want to learn how to find your life story message, download this free book [or download this free PDF]." The free gift grabs attention; the book or PDF tells them more about my business; and the download is their engagement.
Facebook Advertising: How to Create Facebook Ads and Videos
When you want to grow your Facebook traffic, you have two options: use Facebook ads or create Facebook videos. I do both.
At this point, I am going to share my essential tips to making your ads compelling and targeted.
1. Be Clear About Your Message
People have a very short attention span when they're on Facebook. This is because there's just too much information in there. You're competing with a lot of cute and fun videos that can overpower yours.
When creating your video, you need to learn how to share your message in the shortest time possible. My formula for this is: "Learn how to do this, so you can have that."
Example: "Want to learn how to leverage your life story to create a powerful message you can share with the world to make an impact, get paid, and live the lifestyle you desire?"
Let's break it down.
Here's what they need to learn: "Want to learn how to leverage your life story to create a powerful message that you can share with the world?"
This is what they'll get once they complete my program: "Make an impact, get paid, and live the lifestyle you desire."
I'm displaying my message to the world and communicating it in a really simple way. Now, my audience is starting to understand what I'm about.
If you're not doing paid advertising yet, the question I have for you is, can you release videos on your Facebook page that basically say the same thing about your own message? Can you share the three most essential things people need to know?
2. Add a Call to Action
By following my script above, you're getting Facebook traffic because you're creating interest in your videos and ads. However, you still need to get your potential clients engaged. To do that, you should have a call to action. Here are some good examples you can use. Simply modify them to fit your goals or desired actions.
When I create my videos, I always have a call to action at the end. My paid Facebook ads also have a call to action. In fact, in the system I've set up a system, I get 10,400 leads every single month from these calls to action.
Get Their Email Address with an Opt-In Page

Are we done with our Facebook traffic generation? No, we're not. You may be engaging them by letting them click the ad or watch the video, but you're just halfway through.
The other half of this process is the real lead generation. Now you're going to encourage your Facebook traffic to give you their email address. That way, you can grow your mailing list.
To achieve this, you want your Facebook traffic to see and then click on the ad. After that, you want to lead them to what's called an opt-in page.
What Is an Opt-In Page?
An opt-in page is a series of pages that build more engagement. The first page is where they're going to input their name and email address. The following two pages you'll use to offer low-tier paid offers.
Remember, the beauty of the opt-in page is that it collects emails for you. It grows your list which then allows you to sell your products.
How to Design an Opt-In Page
An opt-in page is simple. People go there to get the free gift that you promised to them in your ad or video. However, they'll only get their free PDF or download once they fill out this opt-in page.
Remember, the only way you're going to get their email address is if you give them something in exchange. They need to have a reason to want to give you their email.
The messaging of your opt-in page should be very similar to what is in your Facebook ad. After all, you want to establish consistency. You don't want them to feel as if they're being misled by your confusing messages.
Hopefully now you understand that you can definitely use your Facebook traffic to generate leads for your coaching program. All you have to do is follow my steps. First, you need to design ads that have a clear message and call to action. Then, you should direct them to an equally compelling opt-in page, so they are encouraged to give you their email address in exchange for a gift. With this system, you build up an audience that you can market to over and over again. While it may sound like a long process, once you master this system, there's no limit to how many leads you can get and what products you can offer.
What are your techniques to get targeted traffic from Facebook? Let's exchange ideas in the comments below.
Up Next: How to Get Clients Through a Client Enrollment System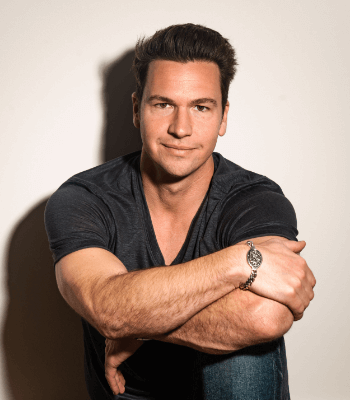 Ted McGrath
Transformation Coach, Theater Performer, Speaker, and Best Selling Author
Ted is a theater performer, speaker, and best selling author. He has created 5 household brands and made millions teaching Coaches, Speakers, and service based Business Owners how to turn their life story and life experience into a lucrative business that impacts millions and makes millions.