How to Create a High-Converting Opt-in Page
Ted McGrath here and today I'm going to teach you how to make a high-converting opt-in page. To help you succeed, I'll walk you through a process I have been doing for years. In the end, you'll be able to make your own page and start your email marketing as soon as possible.
Design an Opt-in Page That Converts Leads to Clients
Before we proceed with the process, I want to first define an opt-in page. After all, I know a lot of you are probably wondering what it is.
An opt-in page is basically the online page where your marketing leads or potential clients will sign up using their name and email address. In turn, you will get their email.
Why does this matter? If you have a coaching program, you need to make an offer. However, you cannot make an offer if you don't have people who will sign up!
The purpose of collecting email addresses is then to build your mailing list. This way, if you have announcements, updates, and special offers, you can send them to your customers' emails.
When done right, an opt-in page has a success rate as high as 65%, which is phenomenal. What that means is for every two people who come to the page, about one of them gives us their email address. Those are really good numbers.
1. Start With the Headline
The headline is the first thing a client will see when they open the page. This is because it is often written in bigger and bolder fonts. There's no way they will miss it.
A headline doesn't have to be complicated. Instead, its purpose is just to communicate what the promise is. To help you, follow this formula: how to do this, so you can have that.
Example: "How to Create Six-Figure Seminars in a Weekend [how to do this] While Making an Impact [so you can have that]"
As you can see, this headline is communicating the basics. However, a lot of the time people will overthink the headline. Remember, your message doesn't have to be perfect, but you also need to let your market tell you whether it's a good headline or not.
Once you've put your headline up, check your analytics. This is how you'll determine the success of your words. If you have an opt-in rate between 40% and 60%, you'll know you're doing really well.
2. Include an Image of the Thing They're Going to Get
Live your full potential! Make it happen and succeed! https://t.co/CLGzF9vnPa #success #inspire #tedmcgrath pic.twitter.com/1ZqzaSvzJD

— Ted McGrath (@ted_mcgrath) November 4, 2017

In general, people don't give their email addresses to people they don't know, so you need to give them an incentive.
One of the best ways to do that is to give them a free gift. You can offer an e-book, short course, free coaching session, case study – whatever works for your larger business plan.
However, above all, you need to bring their attention to the gift. To do this, you can include a compelling image of the gift. While you can look for images on free image galleries, I highly recommend you make your own. For example, if you're giving a free e-book, use the original cover of the book as your image.
3. Make It Simple and Quick
I don't like to make things complicated. The sooner you can have your opt-in page, the better.
That's why I encourage using handy tools such as Click Funnels when creating yours. Of course, you need to customize the content, but you already have the template. If you have all your materials with you, you can create an opt-in page in less than 2 hours.
Just a few pointers here: when you're creating your opt-in page, I would suggest you model ours. For example, for our seminar brand, we use the color red. We like to use red and white since they tend to do well with some of the other colors that represent the brand.
Additionally, you don't need too much text on the page. Instead, keep in mind that it needs to be quick and easy for people to see what they need to do in order to get the free gift. Only then will they actually do it.
4. Don't Forget Your Call to Action
Convert that #lead in no time with these Do's and Don't's #guide: https://t.co/XIuZ9dKlAS! #sales #tedmcgrath pic.twitter.com/KSaMhUPSPm

— Ted McGrath (@ted_mcgrath) December 4, 2017

Remember, the purpose of your opt-in page is to get people to give you their email addresses. While all the above tactics contribute to a successful process, the way to actually get an email address is to add your call to action.
Again, it doesn't have to be difficult. If you've been reading my blog posts, you can see it at the bottom. It usually says, "Leave your comments below." If you're signed up for my program, you may read something like "Download Now!"
The point is, all the client needs to do is click on it. When they click on it, a little pop-up box will appear telling them to enter their email address. They enter their email address and once they hit submit, they'll get their free gift.
How to Create an Opt-in Page for a Video Training Series
People who want to take it to the next level frequently ask me, "Ted, is it possible to use videos as giveaways?" The short answer is, yes. Yes, you can. In fact, with a free video series, we can attract clients to buy our mid-tier and high-tier products. Comparatively, with the free download, we just want them to go buy our low-tier products. These are the products that cost around $37 to $97.
However, keep in mind that an opt-in page with video training normally has a lower conversion rate. It's because watching videos takes more commitment, especially when it comes to time.
With the formula for designing the opt-in page, it's pretty much the same. I tend to use my image instead of my product's when I am doing a video series. I also don't keep my series very long. Three separate videos are already enough.
Don't lose the opportunity of signing up your online audience. Create your opt in page, make it simple and fast, and include a concise but powerful content.
What are your tricks in designing an opt-in page? I'd love to hear them, so please share in the comments below.
Up Next: An Online Presentation That Sells | Tips on How to Create One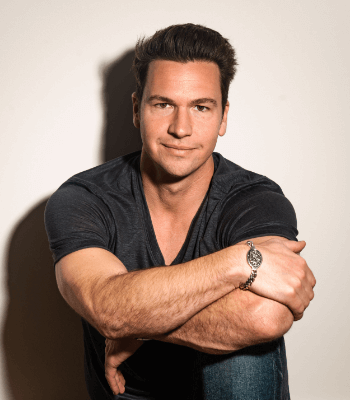 Ted McGrath
Transformation Coach, Theater Performer, Speaker, and Best Selling Author
Ted is a theater performer, speaker, and best selling author. He has created 5 household brands and made millions teaching Coaches, Speakers, and service based Business Owners how to turn their life story and life experience into a lucrative business that impacts millions and makes millions.