We Can Change The World | What Inspired Me To Become A Life Coach
Are you ready to change the world? I believe one of the greatest missions of every person is to make an impact on someone. And a good profession for that is to be a coach. Let me show you how I became one in the hopes you'll find inspiration in my story.
Be The Beacon And Change The World
I believe every person has the power to change the world, and there are many ways to do that. You don't need to be born rich to make a greater impact.
The biggest asset – and your most powerful tool – to change the world is you. You have a life story to tell, life lessons to teach, and a message to share that can inspire others to follow your lead.
Meet Dan
For this week, let me share how I transformed myself into one of the best-selling coaches in the industry and started to change the world.
I always get the question: what really inspired me to become a coach and a speaker?
I think every person possesses the "knowing." There's already an inkling your current job is not what you want or you have a completely different passion. You are close to defining your meaning and purpose.
The problem is it usually takes time for this knowledge to become clearer and for you to take action.
I know I was meant to change the world when I was 21 years old. Around this period, I joined my first coaching program with a guy named Dan Sullivan.
He was talking about how he wanted to do something in transforming people and making an impact on someone's life. I remember that statement really having an impact on me.
I thought, "Wow, what kind of impact could I have in my life?"
The Birth Of My Meaning
I couldn't think of a nobler career than coaching and teaching others. – Ted McGrath pic.twitter.com/sFBske3aGg

— Ted McGrath (@ted_mcgrath) July 27, 2017
Dan was a real inspiration for me to realize I want to do something more than just having a business. I want to change the world and make an impact.
It was the time I wanted to become a coach and speaker. I didn't understand the business model or know how I was going to make money doing it.
The only business I know is insurance since I was selling it. I was fortunate in my first year I made six figures in income, but that never fulfilled me.
The night I made six figures, I went out and overdosed from a bag of cocaine, a couple of pills of ecstasy, and 15 drinks of alcohol.
I was on a search in my twenties to make money, and I thought that was going to be the answer to my life. It really wasn't.
I always knew there was something more. I just didn't know how to go do it.
What inspired me to be a coach and a speaker was initially personal pain.
Share Your Truth

What could I find that was going to be more meaningful and more fulfilling to me so I could start to change the world?
I knew helping people was the answer, but I didn't know a way to do that.
I started to get some experience in my current career, in the insurance business, speaking in front of groups. So I knew that being a speaker and teaching people felt good, but I didn't know it could be a real business.
It was only years later I started to see that coaching and speaking was a business.
I teach people how to take their life story and message and turn it into a business, but I don't think everybody has to do that. If each one of us takes a step to share our story and the message inside of us, we become more authentic and share our truth.
Sharing your truth and your story could inspire others to succeed.
This is how we make the world a better place.
Take Courage And Persist

My desire to change the world came from that place of wanting to be fulfilled and inspire people first. It was only later I said, "Wow I could actually build a real career doing this." I went out and started doing it. But it took me ten years.
So wherever you are, just don't wait to share your story. Know your message, take courage, and persist.
How do you plan to change the world? Let me know and together let's make the world a better place.
Up Next: My Favorite Success Story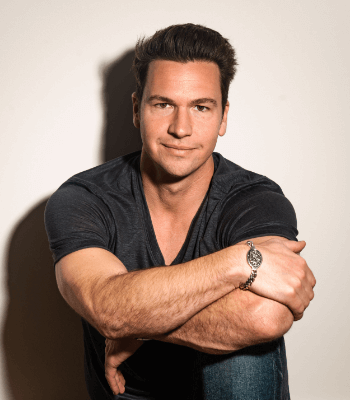 Ted McGrath
Transformation Coach, Theater Performer, Speaker, and Best Selling Author
Ted is a theater performer, speaker, and best selling author. He has created 5 household brands and made millions teaching Coaches, Speakers, and service based Business Owners how to turn their life story and life experience into a lucrative business that impacts millions and makes millions.