12 Best Personal Growth Books You Should Read
While some books are a good read, the best personal growth books are written to inspire. They move you, they influence you, they transform you into a better version of yourself every single day.
If you need a pick me up or even a complete turnaround, it's time to invest in these self-empowerment books. Don't forget to forward these best personal growth books to your friends as they may need a little bit of a push just as you do!
The Best Personal Growth Books of All Time
1. Four-Hour Body (Tim Ferriss)
https://www.instagram.com/p/BjLPUaZnCO2/?hl=en&tagged=fourhourbody
One of the best self-improvement books out there is Tim Ferris's Four-Hour Body. His ideas about life, body, and positive thinking are unconventional and even risky, but it's his magic.
He provides tips and techniques which are out of this world but work for many individuals. People trust the author as he made himself a guinea pig for all his experiments.
There's no better book than one that's based on a true story. With this book, you'll learn how to be efficient as you sleep less than 5 hours a day, burn lots of calories without hardly exercising, and a whole lot more!
2. Four-Hour Work Week (Tim Ferriss)
https://www.instagram.com/p/BjNGPkFACcN/?igref=ogexp&utm_source=fb_www_attr
Here's another book by author Tim Ferriss. This one is more business or market-oriented and is a great example of how to use the Pareto Principle – which is, getting more while doing less in our lives.
One of the best concepts from this is mini-vacation. It stresses one doesn't need to retire to enjoy complete freedom.
You can take small vacations throughout your lifetime instead, so even at your old age, you will continue to be productive and make money.
3. Who Moved My Cheese? An Amazing Way To Deal With Change In Your Work And In Your Life (Spencer Johnson)
https://www.instagram.com/p/Bi2mv5qHlv5/?tagged=whomovedmycheese
One of the top self-growth books of all time, Who Moved My Cheese? was on the best-seller's list for more than three years! Until now, many companies give these inspirational books as gifts to their employees because some of its concepts can be used for marketing.
The book is actually an allegory which is rich with ideas everybody knows but finds them hard to accept.
For one, change is unknown but constant.
Second, it's okay to be afraid of change, but it's also not ideal to stay "in position" because of it.
Third, you can experience and embrace change and still find your heart's desire and happiness through positive thinking.
4. How To Win Friends And Influence People (Dale Carnegie)
https://www.instagram.com/p/BjnMlnJA_4L/?tagged=howtowinfriendsandinfluencepeople
This is one of the best personal development inspirational books of all time! It's been around since 1936!
Yet despite the huge time difference, its lessons still resonate. Why? Truthful lessons last forever.
Now, what can readers like you get from this? Sure, it talks about leadership, how to be influential, make friends, and create good relationships.
https://www.instagram.com/p/BcVCY6fDYz6/
Above all these, it points to the best message: don't think too much of yourself. The world does not revolve around just you.
When you realize this, it's easier to find your purpose and increase your level of happiness which you can derive from being interested in others.
5. 7 Habits Of Highly Effective People (Stephen Covey)
https://www.instagram.com/p/Bj9xqCLA5XS/?tagged=7habitsofhighlyeffectivepeople
How does one become effective? This inspirational book is different from the others on the list because it follows a chronological flow.
Although there are seven steps, you can group them into three categories.
The first three deals with improving yourself: creating the right mindset or putting first things first.
The next three involves dealing with others, so you learn how teams can create win-win situations or learn to be more understanding or empathetic.
The last encourages you to always enhance yourself and your relationship with others – sharpening the saw.
6. Quiet: The Power Of Introverts In A World That Can't Stop Talking (Susan Cain)
https://www.instagram.com/p/Bj5Y1wUl-ou/?tagged=quietthepowerofintrovertsinaworldthatcantstoptalking
An award-winning best self-growth books, Quiet is written for the introverts who are often viewed as more than quiet.
They are snobs, inferior to the extroverts, suspicious, less trusting, and less charismatic. In turn, introverts don't make excellent leaders or are forced to collaborate often if it's against their personality.
There are millions of introverts in the world, and if you're one of them, this book is for you. Know who you really are and why you, in your own unique way, can be as charismatic, influential, and powerful as the extroverts.
7. The Success Principles (Jack Canfield)
https://www.instagram.com/p/Bj-O2AxHdki/?tagged=thesuccessprinciples
The co-author of Chicken Soup for the Soul gives us one of the best personal growth books in years. Like a lot of reach-for-your-dreams books, this contains many tips on how to map your life, do something about it, etc.
The most important – and number one principle – of all? There's only one person who has the power to change yourself: YOU.
8. The Six Pillars Of Self-Esteem (Nathaniel Branden)
https://www.instagram.com/p/BWu9Y1jAEbF/?tagged=thesixpillarsofselfesteem
Do you wonder how other people tend to be happier than you? Do you wish you can be as rich as your friends or find meaning or purpose in your life?
One of the books which can help you out with these questions is the Six Pillars of Self-Esteem. This is more than just confidence building.
It teaches you how to find your authentic self and assert it, as well as exercise responsibility or accountability for your actions.
Stop playing the victim and do something if you want to change your life for the better.
9. How To Stop Worrying And Start Living (Dale Carnegie)
https://www.instagram.com/p/BiPDN8bAOrn/?tagged=howtostopworryingandstartliving
Not all self-help books have lofty goals such as becoming wealthy or finding the love of your life. Dale Carnegie's How to Stop Worrying and Start Living tackles everyday situations and how you can make it a positive, enriching, and happy experience for you.
Consider this your guide as you deal with life's challenges.
10. The Power Of Vulnerability (Brené Brown)
https://www.instagram.com/p/Bi4Vmx4gTSl/?tagged=thepowerofvulnerability
Dr. Brene Brown's best-selling books tackle a key emotional state in our lives: vulnerability. When vulnerability comes in mind, our thoughts turn to shame and a host of other self-defeating behaviors.
Once we accept our vulnerabilities, we see how much we give up for self-defense and we can start to grow rich in the emotional sense. With real-life stories culled from years of Dr. Brown's research, this life-changing book can lead you to spiritual growth and personal transformation.
11. Getting Things Done: The Art of Stress-Free Productivity (David Allen)
#SuccessTRAIN #Stressfree #Book
Getting Things Done: The Art of Stress-Free Productivity Paperback –#adhttp://ow.ly/Kn6v30jARsH
David Allen (Author), James Fallows (Foreword) pic.twitter.com/XUimdZzf1y

— Stress Free Stuff (@StressFREEStuff) May 21, 2018
This time management book is probably a favorite of your life coach. Several reprints and an audiobook later, David Allen's philosophy has transcended Getting Things Done's pages, influencing other motivational books in the process.
Is the way you handle time and productivity stymieing your personal development? Do you want to achieve work-life balance?
Look for this in the self-help books section now.
12. Never Be Closing (Ted McGrath)
One of the key skills they never teach in schools but is highly crucial in life is selling. The ability to understand what another person needs at a given moment, reach out to them with a solution, and get to a point of agreement is game-changing.
This book teaches these essential things along with confidence, transforming objections into points of commonality, and much more.
Let Kalyn Nicholson tell you about a few great inspirational books you can use for your personal success:
These 12 books are considered the best personal growth books of all time for a reason: they're powerful, introspective, and, most of all, influential. Note that what they provide are simple tips to make your life better.
YOU NEED TO WANT IT. Let this burning desire inspire you to create the right mindset and take actionable steps.
If you have other best personal growth books, share your list with us in the comments section below.
Up Next: Finding A Purpose In Life & Holding On To Your Dream
Editor's Note: This post was originally published on July 6, 2017, and has been updated for quality and relevancy.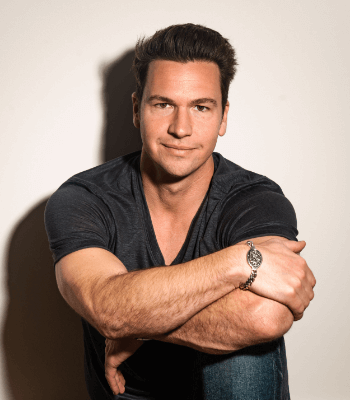 Ted McGrath
Transformation Coach, Theater Performer, Speaker, and Best Selling Author
Ted is a theater performer, speaker, and best selling author. He has created 5 household brands and made millions teaching Coaches, Speakers, and service based Business Owners how to turn their life story and life experience into a lucrative business that impacts millions and makes millions.