7 Bad Habits You MUST Avoid During Networking Events
A lot of professionals are guilty of bad habits when they participate in networking events. I know because I committed some of these bad habits myself. That's why I can say with certainty that most of the time we don't even know we're doing them! These are the top bad networking habits that can ruin your networking style. Figure out which ones apply to you, use the tips below to get ready for your next networking event, and start making an impact!
7 Bad Habits to Eliminate From Your Networking Style
1. You Don't Know Who Your Dream Clients Are
Going to networking events without knowing who your clients are is a surefire way to waste your own time. If you can't identify potential clients, you won't know whom you should connect with. Even if you talk to many different people in the hopes of finding the right client, you'll have wasted time without the guarantee of a high-quality client.
The good news is you can create a brand story that clearly defines the persona of your dream client. First you just have to find your life story. Once you have done this, find your message by asking: Who do my clients want to become?
Here's where your brand story will play a role by painting a vision of a person who is ready to create a difference and make an impact in the world. Your brand story is an empowering story of what's possible.
All this to say that when you think about your message and brand story, you should be able to picture who your dream clients are. Your message should resonate with your dream clients. They should be able to identify with it and claim it as their own. Consequently, you should be able to easily recognize them at networking events.
Read Also: 4 Proven Marketing Strategies to Attract Your Dream Clients
2. You Go to Networking Events Without a Purpose
Going to a networking event without a purpose means not having a clear statement for others to work with. What will you say when people ask you about what you do?
To create a purpose statement, just follow this simple formula: I help people do this so they can have that. For instance, my own statement is, "I help coaches, speakers, service-based business owners, entrepreneurs, artists and experts. I teach them how to find their life story and message, how to get paid for it, and then how to spread it to millions so they can have a lifestyle-friendly business."
It sounds simple, but it's very specific. You immediately lay out who your clients are, what you can do for them, and how you can help them.
When you use your statement in networking events, you draw in the right people. You can engage in meaningful conversations with prospects. Most importantly, you'll never miss an opportunity to gain new clients and expand your network.
3. You Don't Provide Value
Relationships work when there is give and take and each person has something to offer. To fulfill your half of the bargain, you simply have to know your worth. Think about the skills you are good at and identify which can be your potential contributions. Then ask yourself, "Will my contribution benefit others?"
Focus on what you have to offer and how it will benefit you and others. This will also be helpful in crafting your purpose statement.
Read Also: Stand in Your Value | How to Price Your Service According to Its Worth
4. You Talk to Everyone
One of the most common bad habits that people have in networking events is talking to everyone in the room. Not only is this time-consuming, but it also keeps you from making high-value connections.
Creating a high-value network means hand-picking people who can help you and your business grow. This doesn't just include business partners. It also encompasses those clients who can benefit from your offers.
Building a high-value network will become more natural to you if you know who your dream clients are. Additionally, it will be easier to pick them out from the crowd when you use your purpose statement. By using these tools, you don't have to engage with every single person in the networking event.
5. You Neglect to Offer Free Consultations

A free consultation or strategy session is a 45 to 60-minute conversation, usually done over the phone, with a potential client. Here, you ask your clients critical questions to reveal what their dreams, motivations, and struggles are.
Through the consultation, you have a chance to share your message in-depth to a prospect. Additionally, after you've learned more about them, you can tell them about your programs. During this time, you can show them how their dreams and your programs fit together.
I offer a free consultation before I part ways with a prospect. This is a way for me to follow up with them. If they agree to a free consultation, we set a definite schedule for the call. Aside from that, I ask them to call 24 hours in advance should we need to reschedule. By showing them how committed I am, I usually make them more hesitant to back out.
When you miss out on offering free consultations, you can lose the opportunity to upsell new clients to your programs.
Read Also: How to Create a Client Enrollment System for Your Business
6. You Treat Your Connections as Money-Making Machines
The purpose of networking is to establish mutually-beneficial relationships. You can do this by building rapport with the other person. Once you know more about them, you can figure out how you can serve them.
See what I said? How you can serve them. Don't let yourself fall into the bad habit of always focusing on the benefits you can get. This will blow your chances of making real and lasting connections with people. Instead, support a give-and-take conversation. Get to know the other person. When they ask questions about you and your work, tell them your purpose statement.
Not only are you expanding your network — you are also building beneficial relationships.
7. You Don't Follow Up
This is a bad habit that is often overlooked by networking event participants. Following up doesn't mean reaching out to your new connections when you need something from them. Rather, it means keeping yourself at the top of their minds.
There are different ways that you can follow up. Some people like to send personalized thank-you notes after your meeting. Others check in with their prospects a few days before their scheduled free consultation. With the latter strategy, you can also gently remind them of your appointment.
Save this infographic for later!
Find out what my worst habit is and how I overcame it in my video below:
While bad habits are hard to break, you need to let them go to improve yourself. Evaluate your motives and networking practices to see if you've fallen prey to any one of these bad habits. Trust me — your offline marketing strategy will be more effective when you let go of them.
Which of these bad networking habits are you finding it hard to break? Share your thoughts with me in the comments below.
Up Next: Live Events | How to Get High Quality People to Attend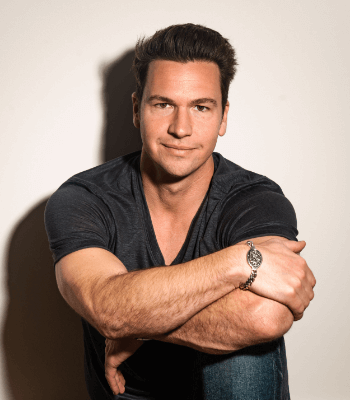 Ted McGrath
Transformation Coach, Theater Performer, Speaker, and Best Selling Author
Ted is a theater performer, speaker, and best selling author. He has created 5 household brands and made millions teaching Coaches, Speakers, and service based Business Owners how to turn their life story and life experience into a lucrative business that impacts millions and makes millions.