21 Ways To Perfect The Art Of Storytelling
The art of storytelling is a powerful way of communicating your message. We human beings are wired for a good story. Nothing shows us lessons about rising and falling, stagnation, and change like a narrative. And good storytelling techniques will build and empower your brand. Let me teach you how you can tell your unique message for yourself and your business through the art of storytelling.
Master the Art of Storytelling and Empower Your Brand
Learning the Art of Storytelling Begins with Character
1. How to discover who you are so you can unleash your passion
Unleash your full potential! Read this: https://t.co/VbiOiVGPmY. #success #inspire #guide #tedmcgrath #blessed #life #tips pic.twitter.com/yPQXHhP18Y

— Ted McGrath (@ted_mcgrath) December 21, 2017

Telling a story begins by answering the question of who is in the story. In real life, we're asked the same question — though it isn't as obvious. To answer it, you'll need to go on a journey like I did. The journey will draw out who you are and gift you with knowledge. This knowledge unlocks your passion, which will ignite the lives of listeners, the people you encounter, and the things you touch.
2. How to be fully aligned with your destiny
When you take a journey to answer the question of who you are, you clarify your mission. Until your mission becomes clear, your life will be full of compromises. You and the people you work with will never be in a win/win situation. Your mission statement points the arrow to your true north and unlocks the potential to enrich all whom you contact.
3. Who else wants to change the world?
Part of the journey is listening to other people's own stories. We're all travelers going through parallel paths. Another person's journey can impact the one you're taking immensely. You don't need to be a professional storyteller to share your and other people's journey.
My journey only really began when I mentored with a guy named Dan Sullivan. Dan proclaimed that he wanted to transform more lives and make a greater impact in the world than anyone who has ever lived. His sense of purpose infected me and made me ask what my own mission was.
When you have the opportunity to tell your story, don't stifle your voice. The simple act of oral storytelling can literally change another person's life. The art of storytelling relies on your being authentic and brave with your own narrative.
Your Message is the Key to the Art of Storytelling
4. How to find your message so you can spread it to millions and make an impact in the world
After journeying deep into your own story, you come back with a message. In order to make it into a tale worth listening to, you need vulnerability and credibility. Vulnerability is power because it allows you to create a human connection with your audience. Credibility proves you have the expertise to guide people and this will make them choose you to mentor them on their own journeys. In other words, don't just make up fairy tales; create the tale you'll share with the world with characters from real life.
Your story needs to be structured for it to be compelling. It starts out with the Call, where you realize that change is necessary. Then you fall into the Pit, the lowest point in your story where you've felt the most pain. The Search happens when you start looking for answers until you unlock your message in the Breakthrough.

I share my personal story in this interview with Garrett of Futuristic Academy:
5. The key to creating your unique and compelling message
Here's my formula for a truly electric message. Your most basic message is: I help people do x so they can become y. It's that simple. By following my advice on the structure of your story and mixing in credibility and vulnerability, you charge your story. People become glued to your words.
Telling Your Brand Story Begins When You Sell a Vision
6. How to create an inspired life
So you better ask yourself today, what inspires you? Read this: https://t.co/iNDybyxBCb.#inspiration #motivation #success #quote #confidence #tedmcgrath pic.twitter.com/zjRSaK4Kqe

— Ted McGrath (@ted_mcgrath) January 18, 2018

You need to imagine the life you want to lead. What's a day like in this life? Think of all the activities you do that energize you and the interests that inspire you. Bring in the people you want to share that life with. Take that snapshot and commit to it because that's your vision of an inspired life.
Now, you have to ask yourself what steps you can take to live that life and take those steps. Combine that with your life's mission and vision, and you're on your way to living an inspired life.
7. How to become the new celebrity in the world today
Clarifying your vision starts your message to millions. It makes your audience crave transformation. In my own philosophy, I talk about transforming people into what I call the new celebrity.
The new celebrity is someone, who after searching for their message, gathers the courage to tell it, and in the process, transforms other people's lives and gets rewarded with wealth for being themselves and for living an inspired life.
Here's a visioning exercise I do to help people to meet their full potential at the start of the day through:
8. Can anyone succeed?
I think how we, collectively as beings and as a society, define success is officially dead. This is something I realized after I questioned the state of my life as an insurance salesman earning a six-figure commission.
You have to tell people that yes, anyone can succeed, but they have to be a success in their own terms. Lead them to that definition, and you'll have conversions. Your power of storytelling can help them realize that.
Ask them what life they're looking at right now versus the life they want to create. From this vision, move them through the steps of how they will change their environment to fit what they see in their dreams. This has worked for me and I hope it works for you.

Here's me talking about my own vision and what I think success is:
Vulnerability Breathes Life into How You Tell a Story
9. My biggest failure on the road to success
Things got really bad for me at a certain point in my life. I had vices and had illicit relations with different women, yet those aren't my biggest failures. My biggest failure is not giving myself permission to succeed sooner.
Don't go telling yourself you're not good enough for what you want — that you're not worthy. Don't ask for permission. If you've tried one time and you didn't hack it, rest and re-engage. Constant engagement with your goal is what gives your vision substance in the real world.
Here's a video of me discussing this very topic:

10. How I almost didn't bounce back from an embarrassing moment
The greatest anxiety we attach to failure involves being embarrassed in front of other people. A single embarrassing moment can traumatize you for life.
I had the same experience when I lost all idea of what I was talking about in a seminar for a group of clients. It was literally my make or break moment.
What that moment taught me is embarrassing moments are opportunities for transformation. If you go through the fire, you come out on the other side with a new creativeness and a new passion. These moments are key to the art of storytelling, even if they feel painful at the moment.
The way you frame your story can either hinder you or propel you. Choose to tell your story which empowers you and emboldens you.
It's the same way with roles. The way you think about the hats you wear affects your work. I was too shy to call myself a marketer, too cautious to call myself a tech, and too timid to call myself an entrepreneur. I only thought of myself as a guy with a story, and it gave me a mixed bag when it came to the results of my work. It's the same with giving yourself permission to succeed, you must never shy away from claiming a role.
12. What to do when you feel like your message is the same as somebody else's
The quickest way to feel like a fraud is to compare your message to other people's. Finding out your story is the same as everyone else's feeds your impostor syndrome.
If you look at your journey, re-live your pit moments, and re-engage the moment you realized what your message is, you'll find it's as unique as your DNA. You went into a very special place inside of you and drew out a gift unto the world.
You can listen to the full podcast to learn more about the art of storytelling and differentiating your message here: 

13. Is it too late for you to create the life you dream of?
Are you too old to reach your dreams? Of course not. You just need to keep thinking about the life you want to lead, cultivate the right connections, and take the steps you need to realize your dreams.
More answers to this question:

One of the Best Elements in the Art of Storytelling is Rising Action
14. Courage under fire
When you open up your life story and talk about your message, you're in a vulnerable place. It's as if you're under fire. Just acknowledge the present moment and your being there is an opportunity. Being yourself right at that very moment is courage in itself.
Take heart and press on. Great storytellers are those who recognize the power of their message and its possible impact on the listeners.
15. Hold on to your dreams
Dream about it or work for it. You choose. pic.twitter.com/FKPptPDDe5

— Ted McGrath (@ted_mcgrath) July 16, 2017

Sometimes, you'll feel lost and totally unaligned with your vision. For some time, I had a string of conversations with people I just didn't click with. I felt totally out of touch with my mission.
I was about to turn in for the day, and I almost refused a client call. Before I did, I stopped myself for a minute, took the call, and received the opportunity to work with a celebrity.
It's the little things we do to hold on to our dreams which reward us with the right opportunities.
16. I have another dream…
It's never too late to manifest your dream. I was able to fulfill my dream of performing in my own one-man show Good Enough.
What I did to get here was to stay consistent with my vision, looked at how I can transform my environment to achieve my inspired life, and took the necessary steps to make it happen.
This is what you can achieve when you say YES, I'M GOOD ENOUGH!: 

Leveraging the Power and Art of Storytelling in Business
17. Why story sells and changes lives
Without vulnerability, your message loses power. pic.twitter.com/sI7SJcCwug

— Ted McGrath (@ted_mcgrath) July 16, 2017

I was in Kenya once, and I spoke with a chief of the Masai, a tribe living in the African nation. We spoke about how their people lived and of the cows they led to the pasture. Without intending to, I gave the chief enough money to fund the education of one of his 90 children.
Why did I do that? He wasn't seeking a donation, but the authenticity of the purpose and his vulnerability as a witness to his tribe's welfare compelled me.
Your story can do the same for your life.
18. What goes into making your business a success?
When you're in a business, you can't help but feel you've entered a rat race because of the competition. To keep you going, you need to remember how big your dreams are. You also need to enter into a mindset which turns the business into a game. Like most games, it's not over until the buzzer sounds at the last minute. Take the time as well to appreciate the amazing people you've surrounded yourself with.
19. Make selling the easiest to do

How to make selling the EASIEST thing you do as a coach! https://t.co/891UpbHxSp pic.twitter.com/uJ65Ob5l3A

— Ted McGrath (@ted_mcgrath) July 18, 2017

What I'm going to advise is counter-intuitive. When you're selling, you need to punch up way above your level. Make clients out of millionaires, and you'll never worry about missing your quota. It's only hard in the beginning, but I promise it gets easier with time.
If your competition is difficult, think of it as a game. That way, it becomes fun, and it takes the edge off doing business.
20. Stand in your value
When talking about the price of your product or service, there will be times when your client talks down the pricing. Don't crumble. Stand in your value. Think about what it's worth to you developing your work, its potential contribution to your client. Just move the conversation to the transformative value your work can give.
Don't compromise the value of your work, but meet the clients needs with a flexible price plan. Be firm in the belief that your storytelling skills are enough to make every cent worth it.
21. How to create balance in your life and business
Everybody needs balance in their lives. But how do you achieve in life and business? Find out here: https://t.co/7ud7W1Aa45 pic.twitter.com/fDIYsyHlBV

— Ted McGrath (@ted_mcgrath) July 15, 2017

When we talk about the balance between life and business, people think about minimizing hours at work and keeping work from intruding into quality time at home. That's the conventional way of looking at it.
What I'm proposing is a better idea of balance. Just work on energy-producing activities. These are activities which maximize your opportunities in business and are aligned with your vision of contributing to the world.
Lessen your low-impact activities. Reduce taking in clients who are moving on a separate journey from where you're taking your business. Less is more. That's how you create balance.
Most of the entries in this article I made for you today will help you craft your own story. Think about where your message is coming from. Go into that special space inside of you and draw it out, then use it to transform your life and the lives of people you love. Take what measure of success it gives you and let time echo it into something larger than yourself — your own message to millions, your contribution to the art of storytelling.
If you loved the material I've accumulated all these years, there's more to capture from my free online training. Just click the link and enter your e-mail address to get more of the insights I've shared here, and learn more about the art of storytelling.
Up Next: Create Profitable Live Events with Small Audience
Editor's Note: This post was originally published in July 2017 and has been updated for quality and relevancy.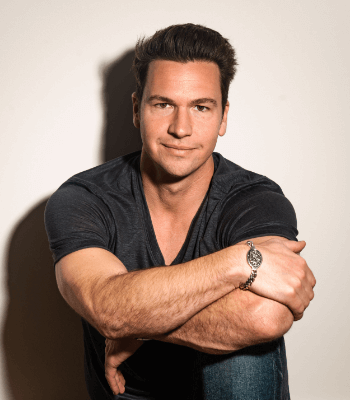 Ted McGrath
Transformation Coach, Theater Performer, Speaker, and Best Selling Author
Ted is a theater performer, speaker, and best selling author. He has created 5 household brands and made millions teaching Coaches, Speakers, and service based Business Owners how to turn their life story and life experience into a lucrative business that impacts millions and makes millions.